Drinking alcohol/drugs and driving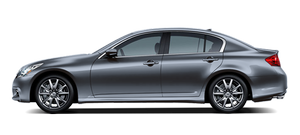 WARNING
Never drive under the influence of alcohol or drugs. Alcohol in the bloodstream reduces coordination, delays reaction time and impairs judgement. Driving after drinking alcohol increases the likelihood of being involved in an accident injuring yourself and others. Additionally, if you are injured in an accident, alcohol can increase the severity of the injury.
INFINITI is committed to safe driving.
However, you must choose not to drive under the influence of alcohol. Every year thousands of people are injured or killed in alcohol-related accidents. Although the local laws vary on what is considered to be legally intoxicated, the fact is that alcohol affects all people differently and most people underestimate the effects of alcohol.
Remember, drinking and driving don't mix! And that is true for drugs, too (over-thecounter, prescription, and illegal drugs).
Don't drive if your ability to operate your vehicle is impaired by alcohol, drugs, or some other physical condition.
See also:
Removing spots
Remove tar and oil spots, industrial dust, insects, and tree sap as quickly as possible from the paint surface to avoid lasting damage or staining. Special cleaning products are available at an INFINI ...
Xenon headlights
WARNING HIGH VOLTAGE• When xenon headlights are on, they produce a high voltage. To prevent an electric shock, never attempt to modify or disassemble. Always have your xenon headlights replaced at a ...
Control buttons
Control buttons 1. PHONE SEND button Push the button to initiate a VR session or answer an incoming call. You can also use the button to skip through system feedback and to enter commands during ...