Shifting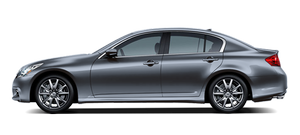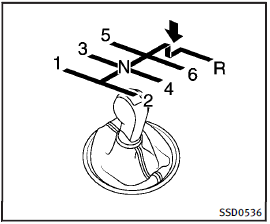 Shifting
To change gears, or when upshifting or downshifting, fully depress the clutch pedal, shift into the appropriate gear, then slowly and smoothly release the clutch pedal.
This vehicle is equipped with a short throw shifter manual transmission. To ensure smooth gear changes, fully depress the clutch pedal before operating the shift lever. If the clutch pedal is not fully depressed before the transmission is shifted, a gear noise may be heard.
Transmission damage could occur.
Start the vehicle in 1st gear and shift to 2nd, 3rd, 4th, 5th and 6th gear in sequence according to vehicle speed.
To back up, depress the shift lever and then move it to the R (Reverse) gear after stopping the vehicle completely.
The shift lever returns to its original position when the shift lever is moved to the N (Neutral) position.
If it is difficult to move the shift lever into the R (Reverse) or 1st gear, shift to the N (Neutral) position, and then release the clutch pedal once. Fully depress the clutch pedal again and shift into the R (Reverse) or 1st gear.
See also:
Ignition switch positions
LOCK (Normal parking position) : The ignition switch can only be locked in the LOCK position. The ignition switch will be unlocked when it is placed in the ACC position while carrying the Intellig ...
Performance
For a massive SUV, the QX56 is a surprising performer. The 5.6-liter V-8 makes 400 horsepower and 413 pounds-feet of torque. Combined with a seven-speed automatic transmission, the QX accelerates ...
Using system
Initialization: When the ignition switch is pushed to the ON position, Voice Recognition System is initialized, which may take up to one minute. When completed, the system is ready to accept voice co ...