Increasing fuel economy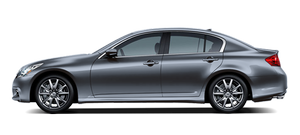 Х Accelerate slowly and smoothly. Maintain cruising speeds with a constant accelerator position.
Х Drive at moderate speeds on the highway.
Х Avoid unnecessary stopping and braking.
Keep a safe distance behind other vehicles.
Х Select a gear range suitable to road conditions.
Х Avoid unnecessary prolonged engine idling.
Х Keep your engine tuned up.
Х Follow the recommended periodic maintenance schedule.
Х Keep the tires inflated at the correct pressure. Improper tire pressure will increase wear and waste fuel.
Х Make sure the front wheels are properly aligned. Improper alignment will cause premature tire wear and lower fuel economy.
Х Climate control operation lowers fuel economy. Use the air conditioner only when necessary.
Х When cruising at highway speeds, it is more economical to use the air conditioner and leave the windows closed to reduce drag.
See also:
Air cleaner
Air cleaner Remove the retainers 1 as illustrated and pull out the filter element 2 . The filter element should not be cleaned and reused. Replace it according to the maintenance intervals. See УI ...
How to read displayed lines
How to read displayed lines Guiding lines which indicate the vehicle width and distances to objects with reference to the bumper line A are displayed on the monitor. Distance guide lines: Indic ...
Zone variation change procedure
The difference between magnetic north and geographical north is known as variance. In some areas, this difference can sometimes be great enough to cause false compass readings. Follow these instructi ...