Safety & Reliability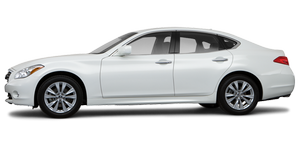 In crash tests by the Insurance Institute for Highway Safety, the M earned the top possible score, Good, in both frontal and side-impact tests. Standard safety features include six airbags, with side-impact airbags for the front seats and side curtain ones for both rows, as well as four-wheel-disc antilock brakes, traction control and an electronic stability system. Front-seat occupants have active head restraints and pre-crash seat belts that cinch up during extreme braking to prepare occupants for impact. Standard on all but the M35x are xenon headlights with an adaptive lighting system than can swivel the lights a few degrees during a turn to help illuminate corners.
Opt for the Advanced Technology Package Ч which first requires the regular Technology Package Ч and you get adaptive cruise control, Preview Braking and Lane Departure Prevention. Adaptive cruise control uses a laser beam to judge the distance to the car ahead and apply modest (not full) gas or brakes to maintain a proper distance. Preview Braking uses the same lasers to sense any oncoming obstructions, including a rapidly slowing vehicle. Though it won't actually begin braking, as the system in the 2009 FX does, it will alert the driver with an audio chime and pre-load the brakes for sharper response.
Lane Departure Prevention debuted in the EX35 SUV in 2007. It builds on the Lane Departure Warning system Infiniti has offered for two years now. Both use a camera mounted behind the windshield to pick up lane markings and warn the driver if the car is drifting astray; LDP goes one step further by applying individual brakes to nudge the car back on course. My test car didn't have it, but I've used the feature in the EX and it's pretty impressive. Contrary to its Big Brother overtones, LDP works subtly: Hit a turn signal or turn the wheel more than a couple degrees in the EX and you'll override it. Don't think of LDP as some kind of bowling-alley gutter bumper Ч it works gently but meticulously. Aside from an audible warning chime, the most you'll notice is a slight tug on the wheel and a hint of deceleration as the brakes nudge the car back into its lane. Infiniti spokesman Kyle Bazemore told me the systems in the M and EX are identical, and both can be switched off if they prove too intrusive.
Reliability has proved impressive. In Consumer Reports studies, the 2006 and 2007 M35 and M45 garnered top scores. The publication predicts the 2008 model will fare much better than average Ч a rating that just edges out the RL, GS and A6 and considerably beats the 5 Series, E-Class and STS.
See also:
Music BoxЃ (if so equipped)
Recording: Х Note that data that is lost and not stored to the hard drive/flash memory due to system damage, improper operation or malfunction is not under warranty. Х Vehicle owners are not permitt ...
Fuel-filler cap
WARNING Х Gasoline is extremely flammable and highly explosive under certain conditions.You could be burned or seriously injured if it is misused or mishandled.Always stop engine and do not smoke or ...
Measurement of weights
Secure loose items to prevent weight shifts that could affect the balance of your vehicle. When the vehicle is loaded, drive to a scale and weigh the front and the rear wheels separately to determine ...