Aluminum alloy wheels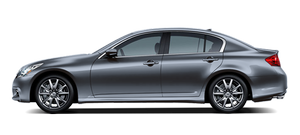 Wash regularly with a sponge dampened in a mild soap solution, especially during winter months in areas where road salt is used. Salt could discolor the wheels if not removed.
CAUTION
Follow the directions below to avoid staining or discoloring the wheels:
• Do not use a cleaner that uses strong acid or alkali contents to clean the wheels.
• Do not apply wheel cleaners to the wheels when they are hot. The wheel temperature should be the same as ambient temperature.
• Rinse the wheel to completely remove the cleaner within 15 minutes after the cleaner is applied.
See also:
Call
• (a name) If there are entries stored in the Phone Book, a number associated with a name and location can be dialed. See "Phone book registration" in this section to learn how to store entries. Wh ...
Moving Object Detection (MOD)
The Moving Object Detection (MOD) system can inform the driver of the moving objects surrounding the vehicle when driving out of garages, maneuvering into parking lots and in other such instances. ...
Radio
Place the ignition switch in the ACC or ON position and press the VOL (volume)/ON·OFF (power) knob to turn the radio on. If you listen to the radio with the engine not running, the ignition switch sho ...