Under the hood and vehicle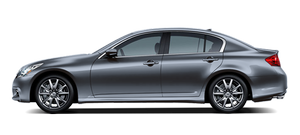 The maintenance items listed here should be checked periodically (for example, each time you check the engine oil or refuel).
Battery*: Check the fluid level in each cell.
It should be between the MAX and MIN lines. Vehicles operated in high temperatures or under severe condition require frequent checks of the battery fluid level.
Brake fluid level*: Make sure that the brake fluid level is between the MAX and MIN lines on the reservoir.
Engine coolant level*: Check the coolant level when the engine is cold.
Engine drive belts*: Make sure that no belt is frayed, worn, cracked or oily.
Engine oil level*: Check the level after parking the vehicle on a level spot and turning off the engine. Wait more than 15 minutes for the oil to drain back into the oil pan.
Exhaust system: Make sure there are no loose supports, cracks or holes. If the sound of the exhaust seems unusual or there is a smell of exhaust fumes, immediately have the exhaust system inspected by an INFINITI retailer. (See "Precautions when starting and driving" for exhaust gas (Carbon monoxide).) Fluid leaks: Check under the vehicle for fuel, oil, water or other fluid leaks after the vehicle has been parked for a while. Water dripping from the air conditioner after use is normal. If you should notice any leaks or if gasoline fumes are evident, check for the cause and have it corrected immediately.
Power steering fluid level* and lines: Check the level when the fluid is cold, with the engine off. Check the lines for proper attachment, leaks, cracks, etc.
Radiator and hoses: Check the front of the radiator and clean off any dirt, insects, leaves, etc., that may have accumulated.
Make sure the hoses have no cracks, deformation, rot or loose connections.
Underbody: The underbody is frequently exposed to corrosive substances such as those used on icy roads or to control dust.
It is very important to remove these substances, otherwise rust will form on the floor pan, frame, fuel lines and around the exhaust system. At the end of winter, the underbody should be thoroughly flushed with plain water, being careful to clean those areas where mud and dirt may accumulate. For additional information, see "Cleaning exterior".
Windshield washer fluid*: Check that there is adequate fluid in the reservoir.
See also:
INFINITI Vehicle Immobilizer System
The INFINITI Vehicle Immobilizer System will not allow the engine to start without the use of the registered Intelligent Key. Never leave these keys in the vehicle. This device complies with P ...
"Recent Calls"
Use the Recent Calls command to access outgoing, incoming or missed calls. "Outgoing" A Use the Outgoing command to list the outgoing calls made from the vehicle. "Incoming" B Use the Incoming c ...
The body
The M's design is signature Infiniti, its subtle curves and complex surfacing endowing it with an emotional draw that goes beyond the colder, more austere class norm. Its deeply sculpted door surf ...