Checking engine oil level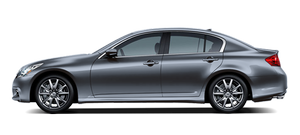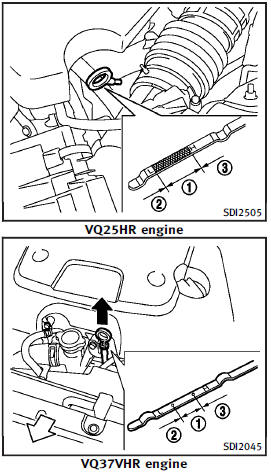 Checking engine oil level
1. Park the vehicle on a level surface and apply the parking brake.
2. Run the engine until it reaches operating temperature.
3. Turn off the engine. Wait more than 15 minutes for the oil to drain back into the oil pan.
4. Remove the dipstick and wipe it clean.
Reinsert it all the way.
5. Remove the dipstick again and check the oil level. It should be within the range 1 . If the oil level is below 2 , remove the oil filler cap and pour recommended oil through the opening.
Do not overfill 3 .
6. Recheck oil level with the dipstick.
It is normal to add some oil between oil maintenance intervals or during the breakin period, depending on the severity of operating conditions.
CAUTION
Oil level should be checked regularly.
Operating the engine with an insufficient amount of oil can damage the engine, and such damage is not covered by warranty.
See also:
Car phone or CB radio
When installing a CB, ham radio or car phone in your INFINITI, be sure to observe the following precautions; otherwise, the new equipment may adversely affect the engine control system and other elect ...
Pregnant women
INFINITI recommends that pregnant women use seat belts. The seat belt should be worn snug, and always position the lap belt as low as possible around the hips, not the waist, and place the s ...
INFINITI all-mode 4WD® system
The all mode 4WD system provides 3 positions (AUTO, 4HI and 4LO), so you can select the desired drive mode according to the driving conditions. 4WD shift procedure: 1: The 4LO and 4HI indic ...