Selecting the correct oil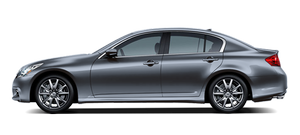 It is essential to choose the correct grade, quality, and viscosity engine oil to ensure satisfactory engine life and performance, see "Capacities and recommended fuel/ lubricants". INFINITI recommends the use of an energy conserving oil in order to improve fuel economy.
Select only engine oils that meet the American Petroleum Institute (API) certification or International Lubricant Standardization and Approval Committee (ILSAC) certification and SAE viscosity standard.
These oils have the API certification mark on the front of the container. Oils which do not have the specified quality label should not be used as they could cause engine damage.
See also:
Accelerator downshift — In D (Drive) position
For passing or hill climbing, fully depress the accelerator pedal to the floor. This shifts the transmission down into the lower gear, depending on the vehicle speed. ...
Starting the engine
1. Apply the parking brake. 2. Move the shift selector to P (Park) or N (Neutral). P (Park) is recommended. The starter is designed not to operate if the shift selector is in any of the driving po ...
FCC Regulatory information
• CAUTION: To maintain compliance with FCC's RF exposure guidelines, use only the supplied antenna. Unauthorized antenna, modification, or attachments could damage the transmitter and may violate FCC ...