Selecting the correct oil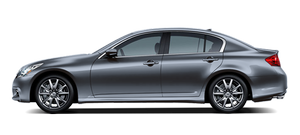 It is essential to choose the correct grade, quality, and viscosity engine oil to ensure satisfactory engine life and performance, see "Capacities and recommended fuel/ lubricants". INFINITI recommends the use of an energy conserving oil in order to improve fuel economy.
Select only engine oils that meet the American Petroleum Institute (API) certification or International Lubricant Standardization and Approval Committee (ILSAC) certification and SAE viscosity standard.
These oils have the API certification mark on the front of the container. Oils which do not have the specified quality label should not be used as they could cause engine damage.
See also:
Bluetooth® Hands-Free Phone System (models with navigation system)
WARNING • Use a phone after stopping your vehicle in a safe location. If you have to use a phone while driving, exercise extreme caution at all times so full attention may be given to vehicle operati ...
Brake booster
Check the brake booster function as follows: 1. With the engine off, depress and release the foot brake pedal more than 20 times. When the foot brake pedal movement (distance of travel) rema ...
Child safety rear door lock (Sedan)
Child safety rear door lock (Sedan) The child safety rear door lock helps prevent doors from being opened accidentally, especially when small children are in the vehicle. When the levers are in th ...