Selecting the correct oil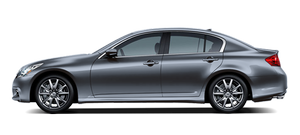 It is essential to choose the correct grade, quality, and viscosity engine oil to ensure satisfactory engine life and performance, see "Capacities and recommended fuel/ lubricants". INFINITI recommends the use of an energy conserving oil in order to improve fuel economy.
Select only engine oils that meet the American Petroleum Institute (API) certification or International Lubricant Standardization and Approval Committee (ILSAC) certification and SAE viscosity standard.
These oils have the API certification mark on the front of the container. Oils which do not have the specified quality label should not be used as they could cause engine damage.
See also:
To turn the system off
Push the OFF button. ...
Locking doors
1. Move the shift selector to the P (Park) position, place the ignition switch in the LOCK position and make sure you carry the Intelligent Key with you. 2. Close all doors. 3. Push any door h ...
Rapid air pressure loss
Rapid air pressure loss or a "blow-out" can occur if the tire is punctured or is damaged due to hitting a curb or pothole. Rapid air pressure loss can also be caused by driving on under-inflated tires ...