Change intervals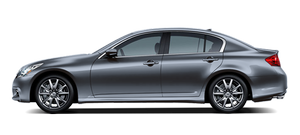 The oil and oil filter change intervals for your engine are based on the use of the specified quality oils and filters. Oil and filter other than the specified quality, or oil and filter change intervals longer than recommended could reduce engine life.
Damage to engines caused by improper maintenance or use of incorrect oil and filter quality and/or viscosity is not covered by the new INFINITI vehicle limited warranties.
Your engine was filled with a high quality engine oil when it was built. You do not have to change the oil before the first recommended change interval. Oil and filter change intervals depend upon how you use your vehicle. Operation under the following conditions may require more frequent oil and filter changes.
• repeated short distance driving at cold outside temperatures,
• driving in dusty conditions,
• extensive idling,
• stop and go "rush hour" traffic,
Refer to the "INFINITI Service and Maintenance Guide" for the maintenance schedule.
See also:
Safety Shield
For the 2011-model year M Line, Infiniti's 360-degree "bubble of protection" around the car known as the Safety Shield becomes more complete than ever. New features such as Blind Spot In ...
Relative humidity
Corrosion will be accelerated in areas of high relative humidity, especially those areas where the temperatures stay above freezing where atmospheric pollution exists, or where road salt is used. ...
Safety, Reliability & Pricing
In crash tests by the Insurance Institute for Highway Safety, the G37 sedan earned the top score, Good, in frontal and side-impact crashes. It also earned a Marginal rating in rear-impacts, despit ...