Change intervals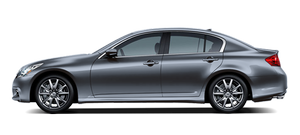 The oil and oil filter change intervals for your engine are based on the use of the specified quality oils and filters. Oil and filter other than the specified quality, or oil and filter change intervals longer than recommended could reduce engine life.
Damage to engines caused by improper maintenance or use of incorrect oil and filter quality and/or viscosity is not covered by the new INFINITI vehicle limited warranties.
Your engine was filled with a high quality engine oil when it was built. You do not have to change the oil before the first recommended change interval. Oil and filter change intervals depend upon how you use your vehicle. Operation under the following conditions may require more frequent oil and filter changes.
• repeated short distance driving at cold outside temperatures,
• driving in dusty conditions,
• extensive idling,
• stop and go "rush hour" traffic,
Refer to the "INFINITI Service and Maintenance Guide" for the maintenance schedule.
See also:
2010 Infiniti G37 Review
If you're shopping $40,000 sport sedans, the Infiniti G37 is required driving: It is smartly appointed, well-equipped, reliable and as much of a hoot to drive as the BMW 3 Series. The BMW pedestal ...
Family-friendly features
While the wide, flat seats in the QX56 are awesome for installing an array of odd-sized child-safety seats, they're not awesome for holding smaller drivers and passengers in place during the slight ...
Automatic transmission
7 speed automatic transmission The automatic transmission in your vehicle is electronically controlled by a transmission control module to produce maximum efficiency and smooth operation. Shown on t ...