Dimensions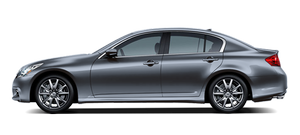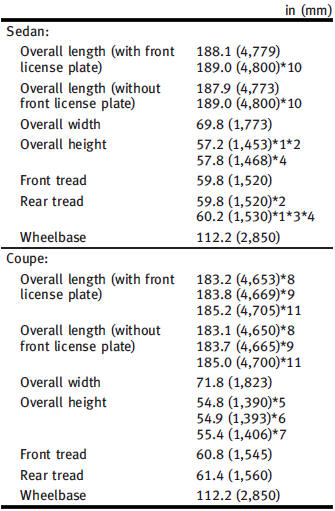 *1: Sedan/Two-Wheel Drive (2WD)/17-in tire models
*2: Sedan/Two-Wheel Drive (2WD)/18-in tire models (FR: 225/50R18, RR:245/45R18)
*3: Sedan/Two-Wheel Drive (2WD)/18-in tire models (FR, RR: 225/50R18)
*4: Sedan/All-Wheel Drive (AWD) models *5: Coupe/Two-Wheel Drive (2WD)/18-in tire models
*6: Coupe/Two-Wheel Drive (2WD)/19-in tire models
*7: Coupe/All-Wheel Drive (AWD) models
*8: Coupe/Standard models
*9: Coupe/Sports models
*10:Sedan/Aerodynamic Package models
*11:Coupe/INFINITI Performance Line, Aerodynamic Package models
See also:
Call
• (a name) If there are entries stored in the Phone Book, a number associated with a name and location can be dialed. See "Phone book registration" in this section to learn how to store entries. Wh ...
Manual shift mode
When the selector lever is in the DS (Drive Sport) position, the transmission is ready for the manual shift mode. Shift ranges can be selected manually by moving the selector lever up or down, or pull ...
Suggested maximum speed in each gear
Downshift to a lower gear if the engine is not running smoothly, or if you need to accelerate. Do not exceed the maximum suggested speed (shown below) in any gear. For level road driving, use the hig ...