When traveling or registering your vehicle in another country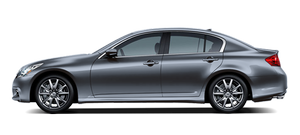 If you plan to travel in another country, you should first find out if the fuel available is suitable for your vehicle's engine.
Using fuel with too low an octane rating may cause engine damage. All gasoline vehicles must be operated with unleaded gasoline. Therefore, avoid taking your vehicle to areas where appropriate fuel is not available.
When transferring the registration of your vehicle to another country, state, province or district, it may be necessary to modify the vehicle to meet local laws and regulations.
The laws and regulations for motor vehicle emission control and safety standards vary according to the country, state, province or district; therefore, vehicle specifications may differ.
When any vehicle is to be taken into another country, state, province or district and registered, its modifications, transportation, and registration are the responsibility of the user. INFINITI is not responsible for any inconvenience that may result.
See also:
Opening windows
The UNLOCK button operation also allows you to open the window that is equipped with the automatic open/close function. (See "Power windows"). To open the window, push the door UNLOCK button 2 on ...
Inside the vehicle
The maintenance items listed here should be checked on a regular basis, such as when performing periodic maintenance, cleaning the vehicle, etc. Accelerator pedal: Check the pedal for smooth operatio ...
What Is It?
Infiniti's first crack at the in-house tuner idea. IPL stands for Infiniti Performance Line, the company's new performance subbrand. The IPL differs from good old Gs in that it has a more aggressi ...