When traveling or registering your vehicle in another country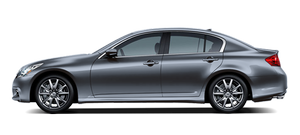 If you plan to travel in another country, you should first find out if the fuel available is suitable for your vehicle's engine.
Using fuel with too low an octane rating may cause engine damage. All gasoline vehicles must be operated with unleaded gasoline. Therefore, avoid taking your vehicle to areas where appropriate fuel is not available.
When transferring the registration of your vehicle to another country, state, province or district, it may be necessary to modify the vehicle to meet local laws and regulations.
The laws and regulations for motor vehicle emission control and safety standards vary according to the country, state, province or district; therefore, vehicle specifications may differ.
When any vehicle is to be taken into another country, state, province or district and registered, its modifications, transportation, and registration are the responsibility of the user. INFINITI is not responsible for any inconvenience that may result.
See also:
Safety note
WARNING ► Do not disassemble or modify this system. If you do, it may result in accidents, fire, or electric shock. ► Do not use this system if you notice any abnormality, such ...
Intelligent Brake Assist (IBA) system (if so equipped)
The Intelligent Brake Assist (IBA) system warns the driver by a warning light and chime when there is a risk of a collision with the vehicle ahead in the traveling lane and the driver must tak ...
Uniform tire quality grading
DOT (Department Of Transportation) Quality Grades: All passenger car tires must conform to federal safety requirements in addition to these grades. Quality grades can be found where applicable ...