Infiniti G in the Market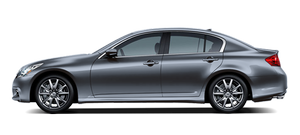 Bolstered by the addition of the G25, the G has seen a sales surge uncommon this late in a car's life cycle: It's edged out the C-Class and come within striking distance of the 3 Series — the segment's once-runaway sales leader.
The G deserves its popularity. Here's hoping Infiniti executes the car's third generation as well. I look forward to what's in store.
See also:
Vehicle phonebook
This vehicle has two phonebooks available for hands-free use. Depending on the phone, the system may automatically download the entire cell phone's phonebook into the "Handset Phonebook". For ...
G37 in the Market
Apart from the questionable face-lift — and I'm picking on the most subjective of bones there — I believe the G37 will succeed into the current generation's waning years. The 3 Series is the runaw ...
Treadwear
The treadwear grade is a comparative rating based on the wear rate of the tire when tested under controlled conditions on a specified government test course. For example, a tire graded 150 would wear ...