Infiniti G in the Market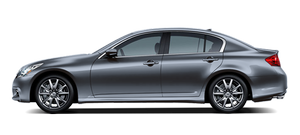 Bolstered by the addition of the G25, the G has seen a sales surge uncommon this late in a car's life cycle: It's edged out the C-Class and come within striking distance of the 3 Series — the segment's once-runaway sales leader.
The G deserves its popularity. Here's hoping Infiniti executes the car's third generation as well. I look forward to what's in store.
See also:
Washing
Wash dirt off the vehicle with a wet sponge and plenty of water. Clean the vehicle thoroughly using a mild soap, a special vehicle soap or general purpose dishwashing liquid mixed with clean, ...
Glove box
Glove box WARNING Keep glove box lid closed while driving to help prevent injury in an accident or a sudden stop. To open the glove box, pull the handle 1 . To close, push the lid in until the l ...
Checking engine oil level
1. Park the vehicle on a level surface and apply the parking brake. 2. Start the engine and let it idle until it reaches operating temperature. 3. Turn off the engine. Wait more than 10 minute ...