Infiniti G in the Market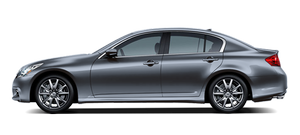 Bolstered by the addition of the G25, the G has seen a sales surge uncommon this late in a car's life cycle: It's edged out the C-Class and come within striking distance of the 3 Series — the segment's once-runaway sales leader.
The G deserves its popularity. Here's hoping Infiniti executes the car's third generation as well. I look forward to what's in store.
See also:
Troubleshooting guide
The system should respond correctly to all voice commands without difficulty. If problems are encountered, try the following solutions. Where the solutions are listed by number, try each solution i ...
Before starting
To get the best recognition performance from Voice Recognition, observe the following: ● The interior of the vehicle should be as quiet as possible. Close the windows to eliminate the surroun ...
Active Noise Control (ANC)
By identifying undesirable sounds in the cabin and then playing back through the speakers sound waves of opposite phase, the original noises are cancelled out, making the M's interior a quieter, m ...