Infiniti G in the Market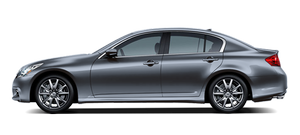 Bolstered by the addition of the G25, the G has seen a sales surge uncommon this late in a car's life cycle: It's edged out the C-Class and come within striking distance of the 3 Series — the segment's once-runaway sales leader.
The G deserves its popularity. Here's hoping Infiniti executes the car's third generation as well. I look forward to what's in store.
See also:
F.M.V.S.S./C.M.V.S.S. certification label
The Federal/Canadian Motor Vehicle Safety Standards (F.M.V.S.S./C.M.V.S.S.) certification label is affixed as shown. This label contains valuable vehicle information, such as: Gross Vehicle ...
Emission control information label
The emission control information label is attached as shown. ...
In the Market
The main problem here is a good one for Infiniti: In regular form, the refined G37 coupe is already incredibly capable and exciting, which sets the bar pretty high for the IPL. Why pay a hefty pri ...