Instrument panel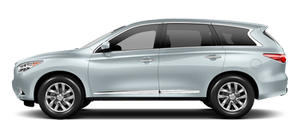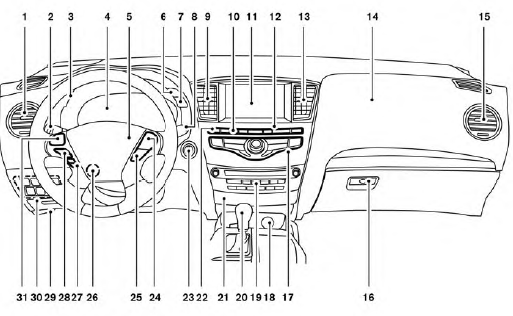 1. Vent (P. 4-52)
2. Headlight/fog light/turn signal switch (P. 2-30)
3. Instrument brightness control (P. 2-34)
4. Meters, gauges, warning/indicator lights and Vehicle Information Display (P. 2-4, 2-7, 2-14)
5. Driver supplemental air bag/Horn (P.1-49, P. 2-36)
6. Back-up Collision Intervention (BCI) system switch (if so equipped) (P.5-29)
7. Twin trip odometer reset switch (P. 2-5)
8. Windshield wiper/washer switch and rear window wiper/washer switch (P. 2-26, P. 2-29)
9. Vent (P. 4-52)
10. Rear window and outside mirror defroster switch (P. 2-30)
11. Center display (P. 4-14, 4-4)/Navigation system* (if so equipped)
12. Automatic heater and air conditioning controls (P. 4-53)
13. Vent (P. 4-52)
14. Front passenger supplemental air bag (P. 1-49)
15. Vent (P. 4-52)
16. Glove box (P. 2-47)
17. Center multi-function control buttons (P. 4-14, 4-4)
18. Power outlet (P.2-42)
19. Audio system controls (P. 4-60)
20. Shift selector (P.5-15)
21. Front passenger air bag status light (P. 1-59)
22. Hazard light switch (P. 2-35)
23. Ignition switch (P. 5-10)
24. Cruise control main/set switches (if so equipped) and Intelligent cruise control main/set switches (if so equipped) (P. 5-46, P.5-48)
25. Distance Control Assist (DCA) system switch (if so equipped) (P. 5-67)
26. Tilt steering wheel control (P. 3-29)
27. Bluetooth Hands-Free Phone System (P. 4-114, 4-128)
28. Steering wheel switch for audio control (P.4-100)
29. Hood release (P. 3-22)
30. Vehicle dynamic control (VDC) OFF switch (P. 2-41)
Heated steering wheel switch (if so equipped) (P.2-40)
Headlight aiming control (P. 2-33) Warning System switch (if so equipped) (P. 2-41)
Power inverter switch (if so equipped) (P. 2-42)
Liftgate release switch (P.3-22)
Power liftgate main switch (P. 3-25)
31. Control panel and Vehicle Information
Display switches (P.4-17, 2-15)
*: Refer to the separate Navigation System Owner's Manual (if so equipped).
See also:
Trip computer
Trip computer Switches for the trip computer are located on the right side of the combination meter panel. To operate the trip computer, push the side or front of the switches as shown above. Wh ...
Linking a keyfob to a stored memoryposition
Each keyfob can be linked to a stored memory position (memory switch 1 or 2) with the following procedure. 1. Follow the steps for storing a memory position. 2. While the indicator light for the ...
Seat belt extenders
If, because of body size or driving position, it is not possible to properly fit the lapshoulder belt and fasten it, an extender that is compatible with the installed seat belts is available t ...