Instrument panel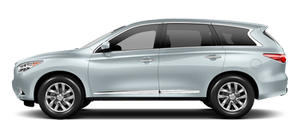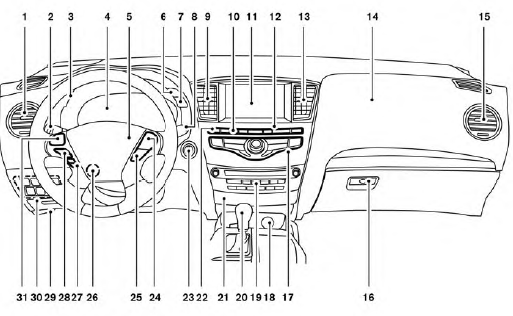 1. Vent (P. 4-52)
2. Headlight/fog light/turn signal switch (P. 2-30)
3. Instrument brightness control (P. 2-34)
4. Meters, gauges, warning/indicator lights and Vehicle Information Display (P. 2-4, 2-7, 2-14)
5. Driver supplemental air bag/Horn (P.1-49, P. 2-36)
6. Back-up Collision Intervention (BCI) system switch (if so equipped) (P.5-29)
7. Twin trip odometer reset switch (P. 2-5)
8. Windshield wiper/washer switch and rear window wiper/washer switch (P. 2-26, P. 2-29)
9. Vent (P. 4-52)
10. Rear window and outside mirror defroster switch (P. 2-30)
11. Center display (P. 4-14, 4-4)/Navigation system* (if so equipped)
12. Automatic heater and air conditioning controls (P. 4-53)
13. Vent (P. 4-52)
14. Front passenger supplemental air bag (P. 1-49)
15. Vent (P. 4-52)
16. Glove box (P. 2-47)
17. Center multi-function control buttons (P. 4-14, 4-4)
18. Power outlet (P.2-42)
19. Audio system controls (P. 4-60)
20. Shift selector (P.5-15)
21. Front passenger air bag status light (P. 1-59)
22. Hazard light switch (P. 2-35)
23. Ignition switch (P. 5-10)
24. Cruise control main/set switches (if so equipped) and Intelligent cruise control main/set switches (if so equipped) (P. 5-46, P.5-48)
25. Distance Control Assist (DCA) system switch (if so equipped) (P. 5-67)
26. Tilt steering wheel control (P. 3-29)
27. Bluetooth Hands-Free Phone System (P. 4-114, 4-128)
28. Steering wheel switch for audio control (P.4-100)
29. Hood release (P. 3-22)
30. Vehicle dynamic control (VDC) OFF switch (P. 2-41)
Heated steering wheel switch (if so equipped) (P.2-40)
Headlight aiming control (P. 2-33) Warning System switch (if so equipped) (P. 2-41)
Power inverter switch (if so equipped) (P. 2-42)
Liftgate release switch (P.3-22)
Power liftgate main switch (P. 3-25)
31. Control panel and Vehicle Information
Display switches (P.4-17, 2-15)
*: Refer to the separate Navigation System Owner's Manual (if so equipped).
See also:
Valet hand-off
When you have to leave a key with a valet, give them the Intelligent Key itself and keep the mechanical key with you to protect your belongings. To prevent the glove box from being opened du ...
INFINITI Voice Recognition alternate command mode
The following section is applicable when Alternate Command Mode is activated. When Alternate Command Mode is activated, an expanded list of commands can be used after pressing the TALK switch. In thi ...
Overview
The Infiniti EX30d introduces a lower CO2 V6 diesel engine, first-in-class safety technology and a new chapter in the European ambitions of Japan's youngest luxury performance car-maker. What doesn't ...