Head restraints (2nd row)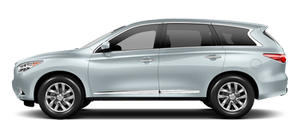 WARNING
Head restraints supplement the other vehicle safety systems. They may provide additional protection against injury in certain rear end collisions. Adjust the head restraints properly, as specified in this section. Check the adjustment after someone else uses the seat. Do not attach anything to the head restraint stalks or remove the head restraint. Do not use the seat if the head restraint has been removed.
If the head restraint was removed, reinstall and properly adjust the head restraint before an occupant uses the seating position. Failure to follow these instructions can reduce the effectiveness of the head restraints. This may increase the risk of serious injury or death in a collision.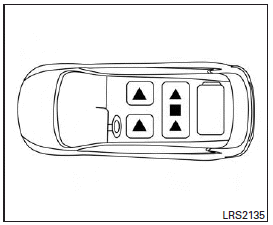 The illustration shows the seating positions equipped with head restraints. The second row head restraints are removable but not adjustable.
Indicates the seating position is equipped with a head restraint.
Indicates the seating position is equipped with an adjustable headrest.
Components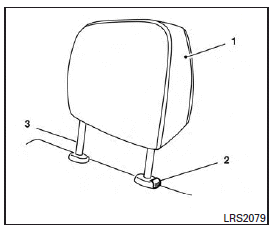 1. Head restraint
2. Lock knob
3. Stalks
Adjustment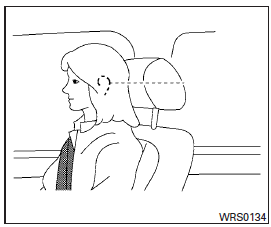 Adjust the head restraint so the center is level with the center of the seat occupant's ears.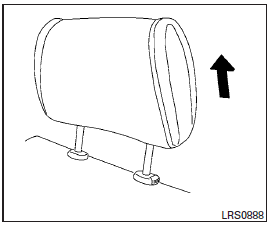 To raise the head restraint, pull it up.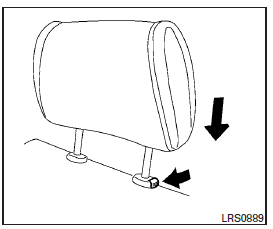 To lower, push and hold the lock knob and push the head restraint down.
Removal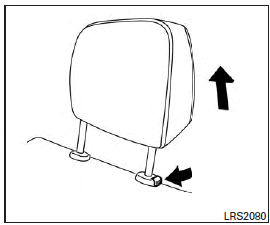 Use the following procedure to remove the head restraints.
1. Adjust the seat or seatback as necessary.
2. Push and hold the lock knob(s).
3. Pull the head restraint up until it is removed from the seat.
4. Store the head restraint properly so it is not loose in the vehicle.
5. Reinstall the head restraint and properly adjust the seat or seatback before an occupant uses the seating position.
Install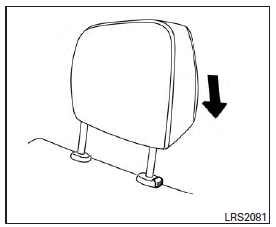 1. Align the head restraint stalks with the holes in the seat. Make sure the head restraint is facing the correct direction.
2. Push the head restraint down until it locks in place.
See also:
Measurement of weights
Secure loose items to prevent weight shifts that could affect the balance of your vehicle. When the vehicle is loaded, drive to a scale and weigh the front and the rear wheels separately to ...
Warning lights
For additional information on warnings and indicators, see "Vehicle information display" later in this section. Anti-lock Braking System (ABS) warning light When the ignition switch is placed in the ...
Owner's Manual/Service Manual order information
Genuine INFINITI Service Manual for this model and prior models can be purchased. A genuine INFINITI Service Manual is the best source of service and repair information for your vehicle. This manual ...