Infants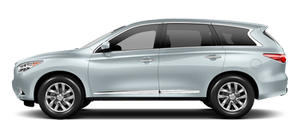 Infants up to at least 1 year old should be placed in a rear-facing child restraint. INFINITI recommends that infants be placed in child restraints that comply with Federal Motor Vehicle Safety Standards or Canadian Motor Vehicle Safety Standards. You should choose a child restraint that fits your vehicle and always follow the manufacturer's instructions for installation and use.
See also:
Waxing
Regular waxing protects the paint surface and helps retain new vehicle appearance. Polishing is recommended to remove builtup wax residue and to avoid a weathered appearance before reapplying wax. A ...
Brake system
The brake system has two separate hydraulic circuits. If one circuit malfunctions, you will still have braking at 2 wheels. ...
Freeing a frozen door lock
To prevent a door lock from freezing, apply deicer through the key hole. If the lock becomes frozen, heat the key before inserting it into the key hole or use the Intelligent Key system. ...