Engine coolant temperature gauge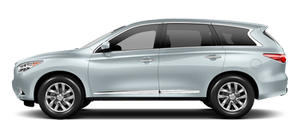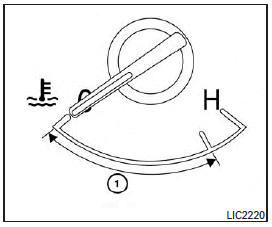 The gauge indicates the engine coolant temperature.
The engine coolant temperature is within the normal range 1 when the gauge needle points within the zone shown in the illustration.
The engine coolant temperature varies with the outside air temperature and driving conditions.
CAUTION
If the gauge indicates coolant temperature near the hot (H) end of the normal range, reduce vehicle speed to decrease temperature. If the gauge is over the normal range, stop the vehicle as soon as safely possible. If the engine is overheated, continued operation of the vehicle may seriously damage the engine.
See "If your vehicle overheats" in the "In case of emergency"section for immediate action required.
See also:
Aluminum alloy wheels
Wash the wheels regularly with a sponge dampened in a mild soap solution, especially during winter months in areas where road salt is used. If not removed, road salt can discolor the wheels. CAUTION ...
Setting memory function
The status of the following settings can be linked to the Intelligent Key and the memorized settings can be available for each Intelligent Key. ► Air conditioner system► Navigation ...
Checking engine oil level
1. Park the vehicle on a level surface and apply the parking brake. 2. Run the engine until it reaches operating temperature. 3. Turn off the engine. Wait more than 15 minutes for the oil ...