Engine coolant temperature gauge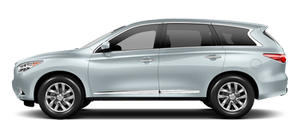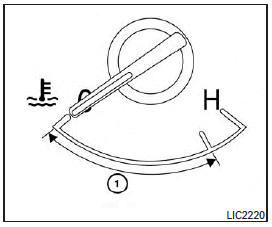 The gauge indicates the engine coolant temperature.
The engine coolant temperature is within the normal range 1 when the gauge needle points within the zone shown in the illustration.
The engine coolant temperature varies with the outside air temperature and driving conditions.
CAUTION
If the gauge indicates coolant temperature near the hot (H) end of the normal range, reduce vehicle speed to decrease temperature. If the gauge is over the normal range, stop the vehicle as soon as safely possible. If the engine is overheated, continued operation of the vehicle may seriously damage the engine.
See "If your vehicle overheats" in the "In case of emergency"section for immediate action required.
See also:
Display settings (models without navigation system)
Display settings (models without navigation system) The "Display" screen will appear when pushing the SETTING button, selecting "Display" key with the INFINITI controller and pushing the ENTER butt ...
"Recent Calls"
Use the Recent Calls command to access outgoing, incoming or missed calls. "Outgoing" A Use the Outgoing command to list the outgoing calls made from the vehicle. "Incoming" B Use the Incoming c ...
Programming HomeLink for Canadian customers
Prior to 1992, D.O.C. regulations required handheld transmitters to stop transmitting after 2 seconds. To program your hand-held transmitter to HomeLink , continue to press and hold the HomeLink bu ...