How Does It Drive?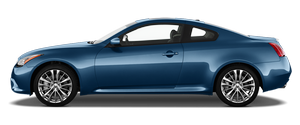 The IPL's 18 extra hp give it only the slimmest straight-line edge, with the car posting a 0-to-60-mph time of 5.4 seconds, actually 0.1 second behind the best time we've seen from a G37S coupe. Both post identical 13.9-second quarter-mile times, and the IPL is quicker to 90 mph and every 10-mph increment thereafter—although only barely. Its lead at 130 mph is 0.7 second.
Driver comfort depends greatly on driver height; those above six feet will find their noggins kissing the headliner. But drivers who fit will appreciate adjustable thigh and torso bolsters that do a great job of keeping them planted in corners. A power tilting-and-telescoping steering wheel aids comfort, too, although it could use greater reach. Moving the seat closer to the wheel sacrificed pedal control. Not that it's difficult to manipulate the IPL's three pedals with two feet, but we were surprised the IPL doesn't get Nissan's crafty SynchroRev Match downshift program, which makes heroes of heel-and-toe amateurs. Also the right-turn-heavy track we visited (Michelin's Laurens proving ground) caused the IPL's V-6 to sputter from fuel starvation with the tank still one-third full.
See also:
Moisture
Accumulation of sand, dirt and water on the vehicle body underside can accelerate corrosion. Wet floor coverings will not dry completely inside the vehicle, and should be removed for drying to avoid f ...
Selecting the correct oil
It is essential to choose the correct grade, quality, and viscosity engine oil to ensure satisfactory engine life and performance, see "Capacities and recommended fuel/ lubricants". INFINITI recommend ...
Headlights
Replacing Fog may temporarily form inside the lens of the exterior lights in the rain or in a car wash. A temperature difference between the inside and the outside of the lens causes the fog. ...