INFINITI Intelligent Key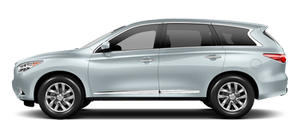 Your vehicle can only be driven with the Intelligent Keys which are registered to your vehicle's Intelligent Key system components and INFINITI Vehicle Immobilizer System components. As many as 4 Intelligent Keys can be registered and used with one vehicle. The new keys must be registered by an INFINITI retailer prior to use with the Intelligent Key system and INFINITI Vehicle Immobilizer System of your vehicle. Since the registration process requires erasing all memory in the Intelligent Key components when registering new keys, be sure to take all Intelligent Keys that you have to the INFINITI retailer.
CAUTION
Listed below are conditions or occurrences which will damage the Intelligent Key:
● Do not allow the Intelligent Key, which contains electrical components, to come into contact with water or salt water. This could affect the system function.
● Do not drop the Intelligent Key.
● Do not strike the Intelligent Key sharply against another object.
● Do not change or modify the Intelligent Key.
● Wetting may damage the Intelligent Key. If the Intelligent Key gets wet, immediately wipe until it is completely dry.
● Do not place the Intelligent Key for an extended period in an area where temperatures exceed 140°F (60°C).
● Do not attach the Intelligent Key with a key holder that contains a magnet.
● Do not place the Intelligent Key near equipment that produces a magnetic field, such as a TV, audio equipment and personal computers.
If an Intelligent Key is lost or stolen, INFINITI recommends erasing the ID code of that Intelligent Key from the vehicle.
This may prevent the unauthorized use of the Intelligent Key to operate the vehicle.
For information regarding the erasing procedure, contact an INFINITI retailer.
See also:
Call volume
Adjusting the incoming or outgoing call volume may improve clarity if reception between callers is unclear. ● Incoming call—adjusting this setting allows you to hear a difference in volume. ...
Inside the vehicle
The maintenance items listed here should be checked on a regular basis, such as when performing periodic maintenance, cleaning the vehicle, etc. Accelerator pedal: Check the pedal for smooth operatio ...
FX in the Market
Off-road SUVs proliferated before their numbers thinned, leaving healthy demand for stalwarts like Jeep. Conversely, SUVs designed primarily for on-road sport, like the FX, didn't become a signifi ...