INFINITI Vehicle Immobilizer System keys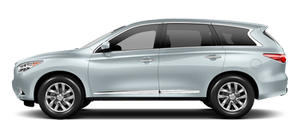 You can only drive your vehicle using the master or valet keys which are registered to the INFINITI Vehicle Immobilizer System components in your vehicle. These keys have a transponder chip in the key head.
The master key can be used for all the locks.
The valet key cannot be used for the console box lock.
To protect belongings when you leave a key with someone, give them the valet key only.
Never leave these keys in the vehicle.
Additional or replacement keys:
If you still have a key, the key number is not necessary when you need extra INFINITI Vehicle Immobilizer System keys. Your retailer can duplicate your existing key. As many as five INFINITI Vehicle Immobilizer System keys can be used with one vehicle. You should bring all INFINITI Vehicle Immobilizer System keys that you have to your INFINITI retailer for registration. This is because the registration process will erase the memory of all key codes previously registered into the INFINITI Vehicle Immobilizer System. After the registration process, these components will only recognize keys coded into the INFINITI Vehicle Immobilizer System during registration.
Any key that is not given to your retailer at the time of registration will no longer be able to start your vehicle.
Do not allow the immobilizer system key, which contains an electrical transponder, to come into contact with water or salt water. This could affect system function.
See also:
Inside the vehicle
The maintenance items listed here should be checked on a regular basis, such as when performing periodic maintenance, cleaning the vehicle, etc. Accelerator pedal: Check the pedal for smooth operatio ...
Compact disc (CD) player operation
Place the ignition in the ACC or ON position and insert the compact disc into the slot with the label side facing up. The compact disc will be guided automatically into the slot and start playing. ...
Image Viewer (models with navigation system)
The image files in the USB memory will be displayed. To display the Image Viewer, push the SETTING button, select the "Other" key and then select the "Image Viewer" key. The image of the selected fi ...