Opening windows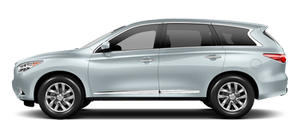 The Intelligent Key allows you to simultaneously open windows equipped with automatic operation.
● To open the windows, press the

button on the Intelligent Key for longer than 3 seconds after all doors are unlocked.
The door windows will open while pressing the

button on the Intelligent Key.
The door windows cannot be closed by using the Intelligent Key.
See also:
2010 Infiniti FX35 Review
During a recent kid-free weekend, I happened to be test driving the 2010 Infiniti FX35. For the grown-ups-only weekend, I decided to do a trek from Denver to Steamboat Springs, Colo. As much as I ...
When traveling or registering your vehicle in another country
If you plan to travel in another country, you should first find out if the fuel available is suitable for your vehicle's engine. Using fuel with too low an octane rating may cause engine damage. All ...
Moonroof
The moonroof is made from a suede material. Clean the moonroof material as follows: CAUTION To help prevent damaging the moonroof while cleaning: ● Do not rub the material with a cloth ...