Extending engine run time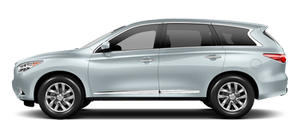 time by performing the steps listed in "Remote starting the vehicle" in this section. Run time will be calculated as follows:
● The first 10 minute run time will start when the remote start function is performed.
● The second 10 minutes will start immediately when the remote start function is performed.
For example, if the engine has been running for 5 minutes, and 10 minutes are added, the engine will run for a total of 15 minutes.
A maximum of two remote starts, or a single start with an extension, are allowed between ignition cycles.
The ignition switch must be cycled to the ON position and then back to the OFF position before the remote start procedure can be used again.
See also:
Self-test feature
The ABS includes electronic sensors, electric pumps, hydraulic solenoids and a computer. The computer has a built-in diagnostic feature that tests the system each time you start the engine and move th ...
Comfort settings
Models with navigation system: The display as illustrated will appear when pushing the SETTING button, selecting the "Others" key and then selecting the "Comfort" key. This key does not appear on t ...
Styling & Quality
I won't waste much virtual ink describing the M's styling qualities; they're better shown in the thumbnails at right. Models with the Sport package get 19-inch alloy wheels, while others have 18-i ...