Extending engine run time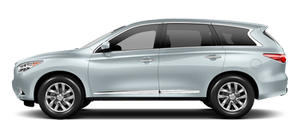 time by performing the steps listed in "Remote starting the vehicle" in this section. Run time will be calculated as follows:
● The first 10 minute run time will start when the remote start function is performed.
● The second 10 minutes will start immediately when the remote start function is performed.
For example, if the engine has been running for 5 minutes, and 10 minutes are added, the engine will run for a total of 15 minutes.
A maximum of two remote starts, or a single start with an extension, are allowed between ignition cycles.
The ignition switch must be cycled to the ON position and then back to the OFF position before the remote start procedure can be used again.
See also:
iPod® PLAYER OPERATION (if so equipped)
Connecting iPod® Open the console lid and connect the iPod® cable to the USB connector. If compatible, the battery of the iPod® is charged while the connection to the vehicle. Depending on the versi ...
Tire Pressure Monitoring System (TPMS)
This vehicle is equipped with the Tire Pressure Monitoring System (TPMS). It monitors tire pressure of all tires except the spare. When the low tire pressure warning light is lit, and the "Tire Pressu ...
Fuel gauge
The gauge indicates the approximate fuel level in the tank. The gauge may move slightly during braking, turning, acceleration, or going up or down hills. The gauge needle returns to 0 (Empty) ...