Automatic operation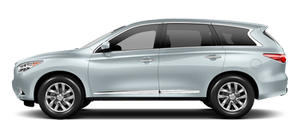 This mode may be used all year round as the system automatically works to keep a constant temperature. Air flow distribution and fan speed are also controlled automatically.
1. Press the AUTObutton on. (The indicator on the button will illuminate and AUTO will be displayed.)
2. Operate the driver's side temperature control buttons.
● Adjust the temperature display to about 75°F (24°C) for normal operation.
● The temperature of the passenger compartment will be maintained automatically. Air flow distribution and fan speed are also controlled automatically.
● A visible mist may be seen coming from the ventilators in hot, humid conditions as the air is cooled rapidly. This does not indicate a malfunction.
Dehumidified defrosting or defogging
1. Press the

front defroster button on.
(The indicator light on the button will come on.)
2. Operate the temperature control buttons to set the desired temperature.
● To quickly remove ice from the outside of the windows, use the fan speed control dial to set the fan speed to maximum.
● As soon as possible after the windshield is clean, press the AUTO button to return to the automatic mode.
● When the

front defroster button is pressed, the air conditioner will automatically be turned on at outside temperatures above 36°F (2°C). The air recirculate mode automatically turns off, allowing outside air to be drawn into the passenger compartment to further improve the defogging performance.
See also:
Drinking alcohol/drugs and driving
WARNING Never drive under the influence of alcohol or drugs. Alcohol in the bloodstream reduces coordination, delays reaction time and impairs judgement. Driving after drinking alcohol increases th ...
Parking brake
WARNING ● Be sure the parking brake is fully released before driving. Failure to do so can cause brake failure and lead to an accident. ● Do not release the parking brake from outsid ...
Before starting the engine
● Make sure the area around the vehicle is clear. ● Check fluid levels such as engine oil, coolant, brake fluid, and windshield-washer fluid as frequently as possible, or at least whene ...