Servicing air conditioner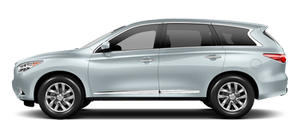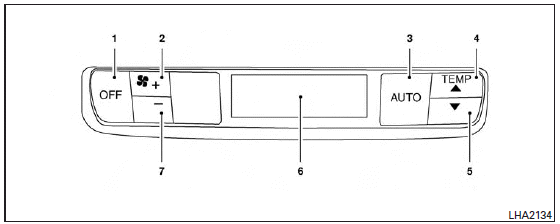 1. OFF button
2. Fan speed increase (+) button
3. AUTO button
4. Temperature increase (

) button
5. Temperature decrease (

) button
6. Display
7. Fan speed decrease (-) button
Rear control buttons:
The rear seat passengers can adjust the rear automatic air conditioning system using the control switches at the rear of the center console.
The rear control buttons do not function when the rear air conditioner screen is shown on the front display. To activate the rear control buttons, press the REAR button on the front air conditioner control panel and switch the screen on the front display.
OFF button: Turns rear automatic air conditioning system off.
Fan speed increase and decrease buttons: Adjusts the rear fan speed up or down.
AUTO button: Turns rear automatic air conditioning system on, AUTO mode on.
Temperature increase and decrease buttons: Adjusts the rear temperature up or down
The air conditioner system in your INFINITI vehicle is charged with a refrigerant designed with the environment in mind.
This refrigerant does not harm the earth's ozone layer.
Special charging equipment and lubricant is required when servicing your INFINITI air conditioner.
Using improper refrigerants or lubricants will cause severe damage to your air conditioner system. See "Air conditioner system refrigerant and oil recommendations" in the "Technical and consumer information" section of this manual.
An INFINITI retailer is able to service your "e
WARNING
The air conditioner system contains refrigerant under high pressure. To avoid personal injury, any air conditioner service should be done only by an experienced technician with proper equipment.
See also:
FCW system operation
Warning systems switch The FCW system will function at speeds of approximately 10 MPH (15 km/h) and above, when the system turns on. The FCW system has an automatic setting mode and a manual sett ...
FM-AM-SAT radio with Compact Disc (CD) player
For all operation precautions, see "Audio operation precautions" earlier in this section. The satellite radio mode requires an active XM Satellite Radio subscription. The satellite radio is no ...
Zone variation change procedure
The difference between magnetic north and geographical north is known as variance. In some areas, this difference can sometimes be great enough to cause false compass readings. Follow these instructi ...