Radio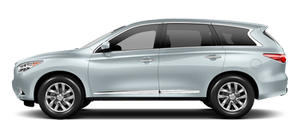 Place the ignition switch in the ACC or ON position and press the VOL (volume)/ON·OFF (power) knob to turn the radio on. If you listen to the radio with the engine not running, the ignition switch should be placed in the ACC position.
Radio reception is affected by station signal strength, distance from radio transmitter, buildings, bridges, mountains and other external influences.
Intermittent changes in reception quality normally are caused by these external influences.
Using a cellular phone in or near the vehicle may influence radio reception quality.
Radio reception
Your INFINITI radio system is equipped with state-of-the-art electronic circuits to enhance radio reception. These circuits are designed to extend reception range, and to enhance the quality of that reception.
However, there are some general characteristics of both FM and AM radio signals that can affect radio reception quality in a moving vehicle, even when the finest equipment is used. These characteristics are completely normal in a given reception area, and do not indicate any malfunction in your INFINITI radio system.
Reception conditions will constantly change because of vehicle movement. Buildings, terrain, signal distance and interference from other vehicles can work against ideal reception. Described below are some of the factors that can affect your radio reception.
Some cellular phones or other devices may cause interference or a buzzing noise to come from the audio system speakers. Storing the device in a different location may reduce or eliminate the noise.
See also:
Air conditioner specification label
Air conditioner specification label The air conditioner specification label is attached as shown. ...
Draining of coolant water
If the vehicle is to be left outside without antifreeze, drain the cooling system, including the engine block. Refill before operating the vehicle. For details, see "Engine cooling system" in ...
Manual control
While using the voice recognition system, it is possible to select menu options by using the steering wheel controls instead of speaking voice commands. This can be especially helpful if the noise of ...