FM radio reception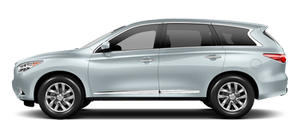 Range: FM range is normally limited to 25 Ц 30 mi (40 Ц 48 km), with monaural (single channel) FM having slightly more range than stereo FM. External influences may sometimes interfere with FM station reception even if the FM station is within 25 mi (40 km). The strength of the FM signal is directly related to the distance between the transmitter and receiver. FM signals follow a lineof- sight path, exhibiting many of the same characteristics as light. For example, they will reflect off objects.
Fade and drift: As your vehicle moves away from a station transmitter, the signals will tend to fade and/or drift.
Static and flutter: During signal interference from buildings, large hills or due to antenna position (usually in conjunction with increased distance from the station transmitter), static or flutter can be heard. This can be reduced by adjusting the treble control to reduce treble response.
Multipath reception: Because of the reflective characteristics of FM signals, direct and reflected signals reach the receiver at the same time. The signals may cancel each other, resulting in momentary flutter or loss of sound.
See also:
All-Wheel Drive (AWD) models
All-wheel drive models INFINITI recommends that towing dollies be used when towing your vehicle or the vehicle be placed on a flat bed truck as illustrated. CAUTION Never tow AWD models with any ...
Changing wheels and tires
Tire rotation (Models equipped with same size tires on all wheels) INFINITI recommends rotating the tires every 7,500 miles (12,000 km). (See УFlat tireФ for tire replacing procedures.) As soon a ...
Releasing inside the trunk
To open the trunk lid from the inside, pull the release handle 1 until the lock releases and push up on the trunk lid. The release lever is made of a material that glows in the dark after a brief exp ...