AM radio reception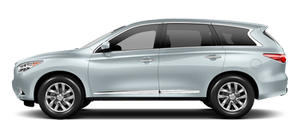 AM signals, because of their low frequency, can bend around objects and skip along the ground.
In addition, the signals can be bounced off the ionosphere and bent back to earth. Because of these characteristics, AM signals are also subject to interference as they travel from transmitter to receiver.
Fading: Occurs while the vehicle is passing through freeway underpasses or in areas with many tall buildings. It can also occur for several seconds during ionospheric turbulence even in areas where no obstacles exist.
Static: Caused by thunderstorms, electrical power lines, electric signs and even traffic lights.
See also:
How Does It Drive?
The IPL's 18 extra hp give it only the slimmest straight-line edge, with the car posting a 0-to-60-mph time of 5.4 seconds, actually 0.1 second behind the best time we've seen from a G37S coupe. B ...
Startup display
When the vehicle in placed in the ON or ACC position the screens that display in the vehicle information include: ● Active system status (if so equipped) ● Trip computer ● Tir ...
Card holder (if so equipped)
The card holder is located on or behind the driver's or passenger's sun visor. To use the card holder, slide the card in the card holder. ...