AM radio reception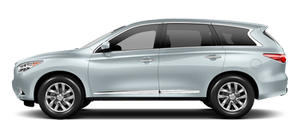 AM signals, because of their low frequency, can bend around objects and skip along the ground.
In addition, the signals can be bounced off the ionosphere and bent back to earth. Because of these characteristics, AM signals are also subject to interference as they travel from transmitter to receiver.
Fading: Occurs while the vehicle is passing through freeway underpasses or in areas with many tall buildings. It can also occur for several seconds during ionospheric turbulence even in areas where no obstacles exist.
Static: Caused by thunderstorms, electrical power lines, electric signs and even traffic lights.
See also:
When traveling or registering your vehicle inanother country
If you plan to travel in another country, you should first find out if the fuel available is suitable for your vehicle's engine. Using fuel with too low an octane rating may cause engine dam ...
Maintenance precautions
When performing any inspection or maintenance work on your vehicle, always take care to prevent serious accidental injury to yourself or damage to the vehicle. The following are general precautions wh ...
Clearing the programmed information
Individual buttons cannot be cleared. However, to clear all programming, press and hold the two outside buttons and release when the indicator light begins to flash (approximately 20 seconds). ...