DISC·AUX but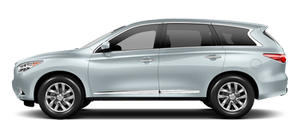 Park the vehicle in a safe location for the front seat occupants to operate the DVD player while watching the images.
Insert a DVD into the CD/DVD slot with the labeled side up. The DVD will be guided automatically into the slot. When ejecting the DVD, press the EJECT button.
Press the AUX·DVD button on the instrument panel and turn the display to the DVD mode, and begin playing the DVD automatically.
When a DVD is loaded, it will begin playing automatically.
The front screen will be turned on when the AUX·DVD button is pressed while a DVD is being played, and it will turn off automatically after a period of time. To turn it on again, press the AUX·DVD button again.
See also:
2012 Infiniti EX35 Review
Parents often have a hard time delineating their lives as individuals from their status as "So and So's mom." Our whole lives change to revolve around our kiddos, from the way we dress ( ...
EX35 in the Market
In a segment dominated by the RX, the EX is still a bit player in terms of sales, on par with the likes of the RDX, XC60 and once-venerable X3. It might be easy to cast off the Infiniti as an also ...
Giving voice command
Giving voice command 1. Push and release the TALK switch located on the steering wheel. 2. A list of commands appears on the screen, and the system announces, "Please say a command". 3. After ...