Exterior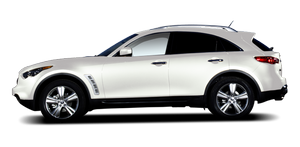 Many of Infiniti's designs are polarizing, falling into either the love-it or the hate-it category. Take the FX and EX, for example. I'm not a fan of the bulbous, jowled FX, but my test EX — in gorgeous, sparkling Midnight Garnet with softer, smoother lines and a purposefully low stance — had an upscale uniqueness that sat well with me. My husband, however, thought its proportions were just plain weird. Tomato tomahto.
The EX's height is perfect for someone of smaller stature, like me (I'm 5-foot-3). I opened up the door and slid right into the driver's seat, no ducking down or climbing up required. That may sound like a small thing, but the amount of energy I saved by not having to heft my kids up and into a huge SUV without running boards and then climb up and in myself was noticeable.
See also:
Wheels and tires
Road wheel Sedan Tire Sedan ...
Programming HomeLink
If you have any questions or are having difficulty programming your HomeLink buttons, refer to the HomeLink web site at: www.homelink.com or call 1-800-355-3515. 1. To begin, press and hold the t ...
Engine coolant temperature gauge
The gauge indicates the engine coolant temperature. The engine coolant temperature is within the normal range when the gauge needle points within the zone 1 shown in the illustration. The ...