Exterior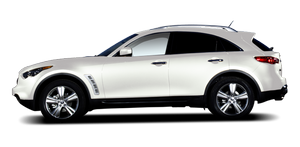 Many of Infiniti's designs are polarizing, falling into either the love-it or the hate-it category. Take the FX and EX, for example. I'm not a fan of the bulbous, jowled FX, but my test EX Ч in gorgeous, sparkling Midnight Garnet with softer, smoother lines and a purposefully low stance Ч had an upscale uniqueness that sat well with me. My husband, however, thought its proportions were just plain weird. Tomato tomahto.
The EX's height is perfect for someone of smaller stature, like me (I'm 5-foot-3). I opened up the door and slid right into the driver's seat, no ducking down or climbing up required. That may sound like a small thing, but the amount of energy I saved by not having to heft my kids up and into a huge SUV without running boards and then climb up and in myself was noticeable.
See also:
Air conditioner specification label
The air conditioner specification label is affixed to the underside of the hood as shown. ...
Read first Ч then drive safely
Before driving your vehicle, read your OwnerТs Manual carefully. This will ensure familiarity with controls and maintenance requirements, assisting you in the safe operation of your vehicle. ...
Three-way catalyst
The three-way catalyst is an emission control device installed in the exhaust system. Exhaust gases in the three-way catalyst are burned at high temperatures to help reduce pollutants. WARNING ...