Exterior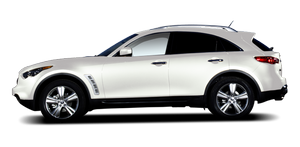 Many of Infiniti's designs are polarizing, falling into either the love-it or the hate-it category. Take the FX and EX, for example. I'm not a fan of the bulbous, jowled FX, but my test EX — in gorgeous, sparkling Midnight Garnet with softer, smoother lines and a purposefully low stance — had an upscale uniqueness that sat well with me. My husband, however, thought its proportions were just plain weird. Tomato tomahto.
The EX's height is perfect for someone of smaller stature, like me (I'm 5-foot-3). I opened up the door and slid right into the driver's seat, no ducking down or climbing up required. That may sound like a small thing, but the amount of energy I saved by not having to heft my kids up and into a huge SUV without running boards and then climb up and in myself was noticeable.
See also:
Push-Button Ignition Switch
WARNING Do not operate the push-button ignition switch while driving the vehicle except in an emergency. (The engine will stop when the ignition switch is pushed 3 consecutive times in quick succes ...
Front auxiliary input jacks
The front auxiliary input jacks are located in the console box. NTSC compatible devices such as video games, camcorders and portable video players can be connected to the auxiliary jacks. Co ...
2012 Infiniti IPL G Coupe review
The 2012 IPL G Coupe represents many things to Infiniti. For starters, the Infiniti Performance Line (IPL) is the automaker's first dabble into the kind of performance premium sub-branding that ma ...