Three-way catalyst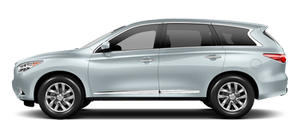 The three-way catalyst is an emission control device installed in the exhaust system. Exhaust gases in the three-way catalyst are burned at high temperatures to help reduce pollutants.
WARNING
● The exhaust gas and the exhaust system are very hot. Keep people, animals or flammable materials away from the exhaust system components.
● Do not stop or park the vehicle over flammable materials such as dry grass, waste paper or rags. They may ignite and cause a fire.
CAUTION
● Do not use leaded gasoline. Deposits from leaded gasoline will seriously reduce the three-way catalystТs ability to help reduce exhaust pollutants.
● Keep your engine tuned up. Malfunctions in the ignition, fuel injection, or electrical systems can cause overrich fuel flow into the three-way catalyst, causing it to overheat. Do not keep driving if the engine misfires, or if noticeable loss of performance or other unusual operating conditions are detected. Have the vehicle inspected promptly by an INFINITI retailer.
● Avoid driving with an extremely low fuel level. Running out of fuel could cause the engine to misfire, damaging the three-way catalyst.
● Do not race the engine while warming it up.
● Do not push or tow your vehicle to start the engine.
See also:
Distance control assist operation
Always pay attention to the operation of the vehicle and be ready to manually decelerate to maintain the proper following distance. The Distance Control Assist (DCA) system may not be able t ...
To protect your vehicle from corrosion
Х Wash and wax your vehicle often to keep the vehicle clean. Х Always check for minor damage to the paint and repair it as soon as possible. Х Keep drain holes at the bottom of the doors open to avo ...
Going & Stopping
What hasn't changed is the G37's performance. Gallons of ink and multiple terabytes have been expended comparing every iota of the G37 sedan's 3.7-liter V-6 to the optional turbocharged inline-six ...