Operating range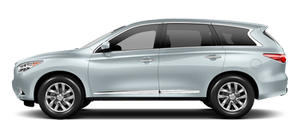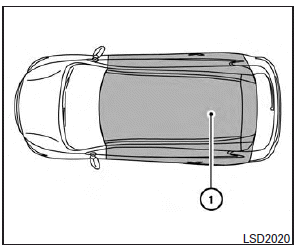 The Intelligent Key functions can only be used when the Intelligent Key is within the specified operating range.
When the Intelligent Key battery is almost discharged or strong radio waves are present near the operating location, the Intelligent Key system's operating range becomes narrower and may not function properly.
If the Intelligent Key is within the operating range, it is possible for anyone, even someone who does not carry the Intelligent Key, to turn the ignition switch to start the engine.
The operating range of the engine start function is inside of the vehicle 1 .
● The luggage area is not included in the operating range, but the Intelligent Key may function.
● If the Intelligent Key is placed on the instrument panel, inside the glove box, storage bin or door pocket, the Intelligent Key may not function.
● If the Intelligent Key is placed near the door or window outside the vehicle, the Intelligent Key may function.
See also:
2012 Infiniti G37 Review
With Infiniti's G lineup, there's something for everyone. The brand's best-selling car is offered in sedan, coupe and convertible body styles and in several performance levels, from the base G25 sed ...
Intelligent Key system
WARNING ► Radio waves could adversely affect electric medical equipment. Those who use a pacemaker should contact the electric medical equipment manufacturer for the possible influenc ...
Remote keyless entry system
WARNING The Intelligent Key transmits radio waves when the buttons are pushed. The FAA advises that the radio waves may affect aircraft navigation and communication systems.Do not operate the Intelli ...