INFINITI vehicle immobilizer system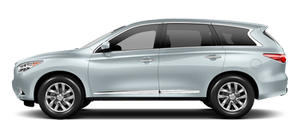 The INFINITI Vehicle Immobilizer System will not allow the engine to start without the use of the registered key.
If the engine fails to start using the registered key, it may be due to interference caused by another registered key, an automated toll road device or automated payment device on the key ring. Restart the engine using the following procedures:
1. Leave the ignition switch in the ON position for approximately 5 seconds.
2. Turn the ignition switch to the OFF or LOCK position and wait approximately 5 seconds.
3. Repeat step 1 and 2 again.
4. Restart the engine while holding the device (which may have caused the interference) separate from the registered key.
If the no start condition re-occurs, INFINITI recommends placing the registered key on a separate key ring to avoid interference from other devices.
See also:
Operating the HomeLink® Universal Transceiver
HomeLink® Universal Transceiver (once programmed) may now be used to activate the garage door, etc. To operate, simply push the appropriate programmed HomeLink® Universal Transceiver button. The red ...
V-6 Power
Gallons of ink and multiple terabytes have been expended comparing every iota of the G37 sedan's 3.7-liter V-6 to the optional turbocharged inline-six from its archrival, the BMW 3 Series. Suffice ...
Manual operation
Fan speed control: Turn the "" fan speed control dial to manually control the fan speed. Push the "AUTO" button to return to automatic control of the fan speed. Air recirculation: Push the intak ...