INFINITI vehicle immobilizer system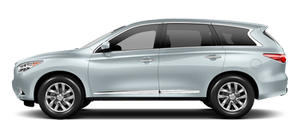 The INFINITI Vehicle Immobilizer System will not allow the engine to start without the use of the registered key.
If the engine fails to start using the registered key, it may be due to interference caused by another registered key, an automated toll road device or automated payment device on the key ring. Restart the engine using the following procedures:
1. Leave the ignition switch in the ON position for approximately 5 seconds.
2. Turn the ignition switch to the OFF or LOCK position and wait approximately 5 seconds.
3. Repeat step 1 and 2 again.
4. Restart the engine while holding the device (which may have caused the interference) separate from the registered key.
If the no start condition re-occurs, INFINITI recommends placing the registered key on a separate key ring to avoid interference from other devices.
See also:
Clearing the programmed information
Individual buttons cannot be cleared. However, to clear all programming, press and hold the two outside buttons and release when the indicator light begins to flash (approximately 20 seconds). ...
How to select menus on the screen
Vehicle functions are viewed on the display screen in menus. To select each key item, highlight the preferred item using the INFINITI controller and push the ENTER button. Whenever a menu ...
Changing engine coolant
Major cooling system repairs should be performed by an INFINITI retailer. The service procedures can be found in the appropriate INFINITI Service Manual. Improper servicing can result in reduced heat ...