INFINITI vehicle immobilizer system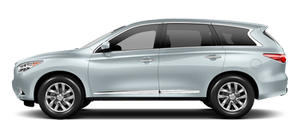 The INFINITI Vehicle Immobilizer System will not allow the engine to start without the use of the registered key.
If the engine fails to start using the registered key, it may be due to interference caused by another registered key, an automated toll road device or automated payment device on the key ring. Restart the engine using the following procedures:
1. Leave the ignition switch in the ON position for approximately 5 seconds.
2. Turn the ignition switch to the OFF or LOCK position and wait approximately 5 seconds.
3. Repeat step 1 and 2 again.
4. Restart the engine while holding the device (which may have caused the interference) separate from the registered key.
If the no start condition re-occurs, INFINITI recommends placing the registered key on a separate key ring to avoid interference from other devices.
See also:
Summer tires
INFINITI specifies summer tires on some models to provide superior performance on dry roads. Summer tire performance is substantially reduced in snow and ice. Summer tires do not have the tire tracti ...
Snow mode
Used on snowy roads or slippery areas. When the SNOW mode is activated, engine output is controlled to avoid wheel spin. Turn the SNOW mode off for normal driving. Turn the drive mode select switch to ...
Receiving a call
When you hear a phone ring, the display will change to the incoming call mode. To receive a call, perform one of the following procedures listed below. 1. Select the "Answer" key. 2. Push ...