INFINITI vehicle immobilizer system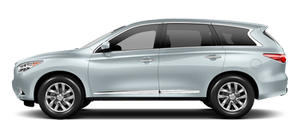 The INFINITI Vehicle Immobilizer System will not allow the engine to start without the use of the registered key.
If the engine fails to start using the registered key, it may be due to interference caused by another registered key, an automated toll road device or automated payment device on the key ring. Restart the engine using the following procedures:
1. Leave the ignition switch in the ON position for approximately 5 seconds.
2. Turn the ignition switch to the OFF or LOCK position and wait approximately 5 seconds.
3. Repeat step 1 and 2 again.
4. Restart the engine while holding the device (which may have caused the interference) separate from the registered key.
If the no start condition re-occurs, INFINITI recommends placing the registered key on a separate key ring to avoid interference from other devices.
See also:
Avoiding collision and rollover
WARNING Failure to operate this vehicle in a safe and prudent manner may result in loss of control or an accident. Be alert and drive defensively at all times. Obey all traffic regulations. Avoid e ...
Unique front and rear parts (INFINITI Performance Line, Aerodynamic Package models)
INFINITI Performance Line models The INFINITI Performance Line models have unique exhaust pipes. These parts are close to the ground and may be damaged if they contact objects such as parking block ...
Tire dressing
INFINITI does not recommend the use of tire dressings. Tire manufacturers apply a coating to the tires to help reduce discoloration of the rubber. If a tire dressing is applied to the tires, it may re ...