Radar maintenance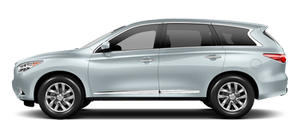 The two radar sensors for the BSW, BSI and BCI systems are located near the rear bumper. Always keep the area near the radar sensors clean.
The radar sensors may be blocked by temporary ambient conditions such as splashing water, mist or fog.
The blocked condition may also be caused by objects such as ice, frost or dirt obstructing the radar sensors.
Check for and remove objects obstructing the area around the radar sensors.
Do not attach stickers (including transparent material), install accessories or apply additional paint near the radar sensors.
Do not strike or damage the area around the radar sensors. Consult an INFINITI retailer if the area around the radar sensors is damaged due to a collision.
Lane camera maintenance
For information of camera maintenance, see "Lane camera unit maintenance" in this section.
Sonar sensor maintenance
For information of sonar sensor maintenance, see "Sensor maintenance" in the this section.
Radio frequency statement
This device complies with part 15 of the FCC Rules and RSS-310 of Industry Canada.
Operation is subject to the following two conditions:
1. This device may not cause harmful interference.
2. This device must accept any interference received, including interference that may cause undesired operation.
Frequency of operation: 24.05GHz—24.25GHz
Field Strength: Not greater than 2.5V/m peak (0.25V/m average) at a distance of 3 m.
The manufacturer is not responsible for any radio or TV interference caused by unauthorized modifications to this equipment. Such modification s could void the user's authority to operate the equipment.
See also:
Meters and gauges
1. Tachometer 2. Warning/Indicator lights 3. Speedometer 4. Engine coolant temperature gauge 5. Voltmeter 6. Dot matrix liquid crystal display/ Odometer/twin trip odometer 7. Engine oi ...
Summer tires
INFINITI specifies summer tires on some models to provide superior performance on dry roads. Summer tire performance is substantially reduced in snow and ice. Summer tires do not have the tire tracti ...
Opening and closing windows with the mechanical key
The driver's door key operation also allows you to open and close all door windows. To open the windows, turn the driver's door key cylinder to the rear of the vehicle for longer than 1 second ...