Exterior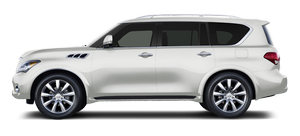 The QX looks a little like a guy I saw at the airport the other day who was trying to squeeze in a few too many trends. (Really? Black, skinny emo jeans, a handlebar mustache and a Mohawk? Choose one trend and rock it.) The QX has just a little too much going on for my taste. I'd take away those blingy chrome gills on the front fenders to clean it up a little.
The QX is a huge SUV (6.3 inches longer than a 2012 GMC Yukon Denali), but you don't really notice its full size until you try to park it in a garage space normally reserved for your small family sedan. Despite its grandiose size, the QX is remarkably easy to maneuver through your daily driving life thanks to its standard 360-degree Around View Monitor and a front and rear sonar system. In a vehicle this size, you're normally left blindly creeping forward in a parking space or garage until you oh so gently bump into something, letting you know you've pulled all the way forward. (The kids won't notice that little dent in their plastic wagon, right?) In the QX56, you can switch on a front-view camera that shows you just how close you are to the object in front of you, a side-view camera showing you the side of the car and the curb as you're trying to parallel park, or a 360-degree view showing you a picture as if from above the car. Audio park assist adds to the ease when parking.
Of course, the QX's large size does come with some downfalls. Mainly, getting in and out of this vehicle can be challenging for those of us under 6 feet tall. Despite the standard running boards, my daughter managed to get a huge, filthy smudge on her "fancy" dress and white tights while getting into the QX56 on the way to her piano recital. Of course, the dirt, ice and sludge that build up on the underside of cars in the Denver area in the winter doesn't help this situation at all.
See also:
New for 2012
Always a polarizing design, the FX has changed incrementally, again, for 2012, with a new grille that one of our editors thinks is an improvement. To me, it's a step back. (For a while, Infiniti g ...
Maintenance indicators
1. Engine oil replacement indicator This indicator appears when the customer set time comes for changing the engine oil. You can set or reset the distance for changing the engine oil. (See "Tri ...
Off-road recovery
If the right side or left side wheels unintentionally leave the road surface, maintain control of the vehicle by following the procedure below. Please note that this procedure is only a general guide. ...