Increasing fuel economy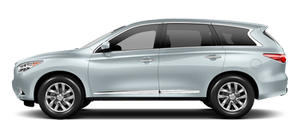 ● Accelerate slowly and smoothly. Maintain cruising speeds with a constant accelerator position.
● Drive at moderate speeds on the highway.
Driving at high speed lowers fuel economy.
● Avoid unnecessary stopping and braking.
Maintain a safe distance behind other vehicles.
● Use a proper gear range which suits road conditions. On level roads, shift into high gear as soon as possible.
● Avoid unnecessary engine idling.
● Keep your engine tuned up.
● Follow the recommended periodic maintenance schedule.
● Keep the tires inflated to the correct pressure.
Low tire pressure increases tire wear and lowers fuel economy.
● Keep the front wheels in correct alignment.
Improper alignment increases tire wear and lowers fuel economy.
● Air conditioner operation lowers fuel economy. Use the air conditioner only when necessary.
● When cruising at highway speeds, it is more economical to use the air conditioner and leave the windows closed to reduce drag.
See also:
Overview
The 2013 Infiniti JX will shake up the status quo when the innovative 7-passenger luxury crossover joins the Infiniti lineup in spring 2012. As a fresh, bold alternative to the many flavors of vanilla ...
Intelligent Key battery discharge
If the battery of the Intelligent Key is discharged, or environmental conditions interfere with the Intelligent Key operation, start the engine according to the following procedure: 1. Mov ...
Freeing a frozen door lock
To prevent a door lock from freezing, apply deicer through the key hole. If the lock becomes frozen, heat the key before inserting it into the key hole or use the Intelligent Key system. ...