Increasing fuel economy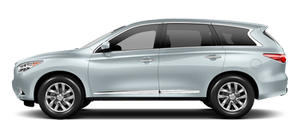 ● Accelerate slowly and smoothly. Maintain cruising speeds with a constant accelerator position.
● Drive at moderate speeds on the highway.
Driving at high speed lowers fuel economy.
● Avoid unnecessary stopping and braking.
Maintain a safe distance behind other vehicles.
● Use a proper gear range which suits road conditions. On level roads, shift into high gear as soon as possible.
● Avoid unnecessary engine idling.
● Keep your engine tuned up.
● Follow the recommended periodic maintenance schedule.
● Keep the tires inflated to the correct pressure.
Low tire pressure increases tire wear and lowers fuel economy.
● Keep the front wheels in correct alignment.
Improper alignment increases tire wear and lowers fuel economy.
● Air conditioner operation lowers fuel economy. Use the air conditioner only when necessary.
● When cruising at highway speeds, it is more economical to use the air conditioner and leave the windows closed to reduce drag.
See also:
Digital Versatile Disc (DVD) Player Operation (models with Navigation System)
Precautions Start the engine when using the DVD entertainment system. Movies will not be shown on the front display while the vehicle is in any drive position to reduce driver distraction. Audio i ...
During a call
During a call There are some options available during a call. Select one of the following displayed on the screen if necessary. • Hang upFinish the call. • Use HandsetTransfer the call to the cel ...
Tire equipment
1. SUMMER tires have a tread designed to provide superior performance on dry pavement. However, the performance of these tires will be substantially reduced in snowy and icy conditions. If you oper ...