Increasing fuel economy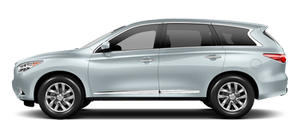 ● Accelerate slowly and smoothly. Maintain cruising speeds with a constant accelerator position.
● Drive at moderate speeds on the highway.
Driving at high speed lowers fuel economy.
● Avoid unnecessary stopping and braking.
Maintain a safe distance behind other vehicles.
● Use a proper gear range which suits road conditions. On level roads, shift into high gear as soon as possible.
● Avoid unnecessary engine idling.
● Keep your engine tuned up.
● Follow the recommended periodic maintenance schedule.
● Keep the tires inflated to the correct pressure.
Low tire pressure increases tire wear and lowers fuel economy.
● Keep the front wheels in correct alignment.
Improper alignment increases tire wear and lowers fuel economy.
● Air conditioner operation lowers fuel economy. Use the air conditioner only when necessary.
● When cruising at highway speeds, it is more economical to use the air conditioner and leave the windows closed to reduce drag.
See also:
Center multi-function control panel
Models with navigation system 1. "STATUS" status display button2, 6, 7, 10, 11. For navigation system control buttons (Refer to the separate Navigation System Owner's Manual.)3. INFINITI controll ...
Operating tips
● When the shift selector is shifted to the R (Reverse) position, the display screen automatically changes to the RearView Monitor mode. However, the radio can be heard. ● When the view ...
It goes faster.
We start our trip around the upgraded IPL G Coupe in the engine bay where, aside from the chrome IPL badge on the engine cover, not much is different from a standard G37. Yep, that's the same 3.7- ...