Increasing fuel economy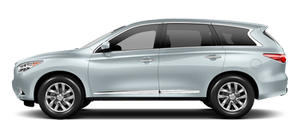 ● Accelerate slowly and smoothly. Maintain cruising speeds with a constant accelerator position.
● Drive at moderate speeds on the highway.
Driving at high speed lowers fuel economy.
● Avoid unnecessary stopping and braking.
Maintain a safe distance behind other vehicles.
● Use a proper gear range which suits road conditions. On level roads, shift into high gear as soon as possible.
● Avoid unnecessary engine idling.
● Keep your engine tuned up.
● Follow the recommended periodic maintenance schedule.
● Keep the tires inflated to the correct pressure.
Low tire pressure increases tire wear and lowers fuel economy.
● Keep the front wheels in correct alignment.
Improper alignment increases tire wear and lowers fuel economy.
● Air conditioner operation lowers fuel economy. Use the air conditioner only when necessary.
● When cruising at highway speeds, it is more economical to use the air conditioner and leave the windows closed to reduce drag.
See also:
Tire equipment
SUMMER tires have a tread designed to provide superior performance on dry pavement. However, the performance of these tires will be substantially reduced in snowy and icy conditions. If you operate y ...
2009 Infiniti M35 Review
A sedan isn't usually what comes to mind when you think of a family car, but the 2009 Infiniti M35x could change that. The M35x single-handedly proves that sedans can be great family cars. In fact ...
Auto Download
When this item is activated, the phonebook of a hands-free phone is automatically downloaded at the same time that the hands-free phone is connected. When this item is active, the system will automat ...