Brake precautions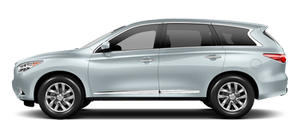 Vacuum assisted brakes
The brake booster aids braking by using engine vacuum. If the engine stops, you can stop the vehicle by depressing the brake pedal. However, greater foot pressure on the brake pedal will be required to stop the vehicle and stopping distance will be longer.
Using the brakes
Avoid resting your foot on the brake pedal while driving. This will overheat the brakes, wear out the brake pads faster, and reduce gas mileage.
To help reduce brake wear and to prevent the brakes from overheating, reduce speed and downshift to a lower gear before going down a slope or long grade. Overheated brakes may reduce braking performance and could result in loss of vehicle control.
WARNING
● While driving on a slippery surface, be careful when braking, accelerating or downshifting. Abrupt braking or accelerating could cause the wheels to skid and result in an accident.
● If the engine is not running or is turned off while driving, the power assist for the brakes will not work. Braking will be harder.
Wet brakes
When the vehicle is washed or driven through water, the brakes may get wet. As a result, your braking distance will be longer and the vehicle may pull to one side during braking.
To dry the brakes, drive the vehicle at a safe speed while lightly pressing the brake pedal to heat up the brakes. Do this until the brakes return to normal. Avoid driving the vehicle at high speeds until the brakes function correctly.
Parking brake break-in
Break-in the parking brake shoes whenever the stopping effect of the parking brake is weakened or whenever the parking brake shoes and/or drum/rotors are replaced, in order to assure the best brake performance.
This procedure is described in the vehicle service manual and can be performed by an INFINITI retailer.
See also:
Antenna
Window antenna The antenna pattern is printed inside the 3rd row seat window. CAUTION ► Do not place metalized film near the 3rd row seat window or attach any metal parts to it. This ...
Distance control assist operation
Always pay attention to the operation of the vehicle and be ready to manually decelerate to maintain the proper following distance. The Distance Control Assist (DCA) system may not be able to decele ...
Available views
WARNING ● The distance guide line and the vehicle width line should be used as a reference only when the vehicle is on a paved, level surface. The distance viewed on the monitor may be differ ...