Tire equipment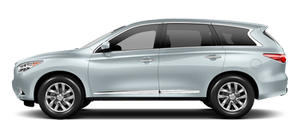 1. SUMMER tires have a tread designed to provide superior performance on dry pavement.
However, the performance of these tires will be substantially reduced in snowy and icy conditions. If you operate your vehicle on snowy or icy roads, INFINITI recommends the use of MUD & SNOW or ALL SEASON TIRES on all four wheels. Please consult an INFINITI retailer for the tire type, size, speed rating and availability information.
2. For additional traction on icy roads, studded tires may be used. However, some U.S.
states and Canadian provinces prohibit their use. Check local, state and provincial laws before installing studded tires.
Skid and traction capabilities of studded snow tires on wet or dry surfaces may be poorer than that of non-studded snow tires.
3. Tire chains may be used. For details see "Tire chains" in the "Maintenance and do-ityourself" section of this manual.
See also:
2012 Infiniti G37 Review
With Infiniti's G lineup, there's something for everyone. The brand's best-selling car is offered in sedan, coupe and convertible body styles and in several performance levels, from the base G25 sed ...
Family lifestage
In Diapers: It'd be a tight fit for rear-facing infant seats but doable. In School: Booster seats fit well, and there's plenty of cargo space for backpacks and other gear. ...
It goes faster.
We start our trip around the upgraded IPL G Coupe in the engine bay where, aside from the chrome IPL badge on the engine cover, not much is different from a standard G37. Yep, that's the same 3.7- ...