Towing recommended by INFINITI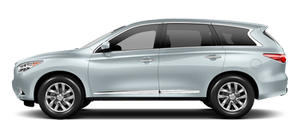 All-Wheel Drive (AWD) models

INFINITI recommends that towing dollies be used when towing your vehicle or the vehicle be placed on a flat bed truck as illustrated.
CAUTION
Never tow AWD models with any of the wheels on the ground as this may cause serious and expensive damage to the powertrain.
Front-Wheel Drive models

INFINITI recommends that your vehicle be towed with the driving wheels (front) off the ground or place the vehicle on a flat bed truck as illustrated.
WARNING
● Never tow your vehicle with the front wheels on the ground or four wheels on the ground (forward or backward), as this may cause serious and expensive damage to the transmission. If it is necessary to tow the vehicle with the rear wheels raised always use towing dollies under the front wheels.
● When towing with the rear wheels on the ground or on towing dollies, place the ignition switch in the ACC or ON position, and secure the steering wheel in the straight-ahead position with a rope or similar device.
See also:
Owner's Manual/Service Manual order information
Genuine INFINITI Service Manual for this model and prior models can be purchased. A genuine INFINITI Service Manual is the best source of service and repair information for your vehicle. This ...
Push starting
CAUTION ● CVT models cannot be push-started or tow-started. Attempting to do so may cause transmission damage. ● Do not push start this vehicle. The three-way catalyst may be damaged ...
Xenon headlights
WARNING HIGH VOLTAGE• When xenon headlights are on, they produce a high voltage. To prevent an electric shock, never attempt to modify or disassemble. Always have your xenon headlights replaced at a ...