Environmental factors influence the rate of corrosion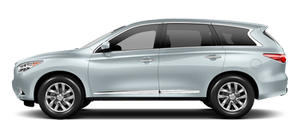 Moisture
Accumulation of sand, dirt and water on the vehicle body underside can accelerate corrosion.
Wet floor coverings will not dry completely inside the vehicle and should be removed for drying to avoid floor panel corrosion.
Relative humidity
Corrosion will be accelerated in areas of high relative humidity, especially those areas where the temperatures stay above freezing and where atmospheric pollution exists and road salt is used.
Temperature
High temperatures accelerate the rate of corrosion to those parts which are not well ventilated.
Air pollution
Industrial pollution, the presence of salt in the air in coastal areas, or heavy road salt use accelerates the corrosion process. Road salt also accelerates the disintegration of paint surfaces.
See also:
Quality
Infiniti is synonymous with vehicle quality, and that's something that doesn't happen by accident. On the Tochigi production line in Japan every vehicle - not just every tenth - is laser scanned ...
How to use INFINITI controller
Choose an item on the display by rotating or pushing the center dial 1 upward/ downward, and push the ENTER button 2 for operation. If you push the BACK button3 before the setup is complet ...
Tilt/telescopic steering
WARNING ● Do not adjust the steering wheel while driving. You could lose control of your vehicle and cause an accident. ● Do not adjust the steering wheel any closer to you than is n ...