Overview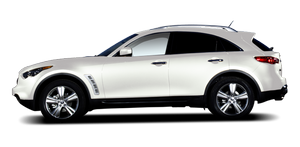 The Infiniti EX30d introduces a lower CO2 V6 diesel engine, first-in-class safety technology and a new chapter in the European ambitions of Japan's youngest luxury performance car-maker. What doesn't change is the EX's dynamic coupé crossover style, its outstanding standard equipment - and a high-performance drive to seduce the sportiest of owners
The dynamic EX reinvented the way compact SUVs look. Its advanced chassis reinvigorated how they drive. Extensive standard equipment recalibrated value and Infiniti's Total Ownership Experience re-imagined every facet of life with a premium quality car for the most discerning of owners. Now with the addition of an acclaimed new diesel engine, boasting more torque, or pulling power, than any existing rival, the EX redefines desirability in the compact SUV class.
The Infiniti EX30d joins the EX37 V6 petrol models in Infiniti Centres across Europe from summer 2010 (depending on country). The sports coupé-inspired SUV is the second Infiniti to be powered by diesel. It inherits exactly the same 3.0-litre V6 piezo-injection engine as has been available in its big brother, the FX30d, since June 2010. In the form used in the EX and FX crossovers, the Alliance's V9X V6 diesel is very much a bespoke Infiniti unit. It was developed by Infiniti to deliver more kilometres and lower carbon emissions than the brand's petrol V6 while enhancing the high performance and refinement central to Infiniti's luxury ethos.
The outputs are exceptional for the compact SUV class. The V6's 175 kW (238 PS) maximum power equals the best available while its massive torque, of 550 Nm from just 1750rpm, out-muscles equivalent existing models from Audi, BMW, Mercedes-Benz and Volvo.
Smooth, responsive and lag-free, the V6 has even been tuned to sound like a petrol V6 engine, enhancing the EX's already prominent sporting appeal with its dashing looks, driver-focused interior and well resolved, rear-drive biased handling. Where the law allows, the Infiniti EX30d can sprint from 0-100 km/h in just 7.9 seconds and hit 221 km/h flat out.
High performance and exceptional efficiency go hand in hand in the Infiniti EX30d, as shown by an EU combined cycle fuel consumption figure of 8.5 l/100km (33.2mpg). With 7.2 l/100 km (39.2mpg) on the extra-urban cycle, the Infiniti EX30d's long-distance cruising capability is greatly enhanced with a potential range of 1100km. Over the petrol EX37 models, CO2 emissions fall to 224 g/km - despite the diesel's torque exceeding even that of Infiniti's 5.0-litre petrol V8 of the flagship FX.
Depending on market, the Infiniti EX30d is priced close to the equivalent EX37 model, heightening the EX's strong value proposition which sees many features included as standard for which rival makes charge extra. This philosophy is taken to a new level with the introduction of the GT Premium - with virtually nothing left out that could be included.
The GT Premium's array of standard high-technology safety and convenience systems includes Lane Departure Prevention™ (LDP), an SUV-first which made its European debut in the FX30d. Where other makes provide mere lane departure warnings, Infiniti's LDP intervenes gently to guide the car back into the correct lane if its warnings aren't heeded.
As with the FX, LDP is available only on the diesel-engined EX and as part of the standard technology pack integral to the GT Premium, expected to be the range's biggest selling model. It is estimated that the diesel model will account for eight out of 10 EX sales in Europe.
EX in Europe - the story so far
The Infiniti EX30d is central to phase two of Infiniti's quiet assault on the European luxury car market and the key to the Japanese luxury brand's growth plans. Phase one, which commenced with Infiniti's European launch in Paris in 2008, saw the introduction of the petrol-engined range and the building of both the brand and its unique dealerships. By July 2010, there were 35 Infiniti Centres open across 16 European countries, all of them more akin to bespoke hotels than motor retailers for their contemporary look and luxury feel.
A fifth of all Infinitis sold in Europe since then have been the EX37. European EX owners are younger than the segment average, at 51, mostly comprise business owners and executives and are typically in smaller families of just one child. Infiniti research shows that 85% of them regard the EX37 as an upgrade over their previous car even though three quarters of them came from other premium brands, most commonly BMW.
Significantly more than half of Europe's EX buyers did not have an SUV before, and of those who did a sizeable proportion were down-sizing from larger models, confirming the appeal of not just the EX's sporty design but also its dimensions. In BMW terms, the EX's height is half-way between the existing X3 and the 3-series Coupé, while, unusually for a compact SUV, width is in line with that of the Coupé.
Owners in Europe classify the EX37's main strengths as design, interior, engine flexibility and standard equipment - the vast majority of EXs sold have had features such as Connectiviti+ HDD navigation, Intelligent Cruise Control and Around View Monitor.
The compact SUV market in Europe
Despite recession and collapsing car sales, 2009 was a big year for the SUV-C segment in Europe. Sales increased from around 100,000 a year to more than 175,000 as what was historically a largely single model-dominated market niche suddenly gained a host of new premium-class contenders. In 2009 the BMW X3 was joined by the Audi Q5, Mercedes-Benz GLK and Volvo XC60 - as well of course as the Infiniti EX37.
Infiniti's mould-breaking coupé crossover immediately made an impact for its stand-out style and high performance. As a petrol model, however, it was always destined to remain a rare sight in a market dominated by diesels.
The V6 diesel engine expands the EX's potential sales net by almost six times, the Infiniti EX30d becoming a direct rival for 34% of the total SUV-C diesel segment.
The largest markets in Europe for compact SUVs are Germany, Italy and the UK. Infiniti forecasts that following the arrival of the Infiniti EX30d and other new contenders, SUV-C sector sales will increase from 2012.
V9X: Infiniti's first diesel engine
When it was decided to launch Infiniti in Europe a diesel engine was deemed compulsory. But it had to be an engine that built on Infiniti's core values and made no compromises on driving pleasure. During the study phase, after looking at other options, the Alliance decided to develop its own, the V9X, a common-rail 3.0-litre V6 with piezo injectors and high (1800 bar) fuel pressure.
From day one, Infiniti has been central to this engine's development and literally its driver, including making the key decision of casting the block out of compacted graphite iron (CGI) in order to enhance the brand's vital attributes of light weight and refinement more typically associated with a petrol engine.
The V6 is very much a bespoke Infiniti powerplant. Although the V9X is flexible enough to suit a range of Alliance models in front-, four- or rear-wheel drive form, to meet Infiniti's requirements the V6 features extensive changes. Unique components include: cylinder block, crankshaft, intake manifold, fuel injection system, exhaust gas recirculation, turbocharger, sump and manifold catalyst. The V6 also looks completely different from the V9X in any other Alliance application.
To the benefit of packaging efficiency, crankshaft balance and reliability, the V6 has an angle of 65 degrees, with the turbo mounted within the vee. The heads are made of aluminium while the CGI block offers immense strength with light weight. CGI is up to 75% stiffer than iron but, in the case of the Infiniti EX30d's engine block, weighs 22% less.
The engine's inherent stiffness is a big factor in allowing the Infiniti EX30d's exacting refinement criteria to be met without recourse to weight-adding extra engineering, such as ribbing or balance shafts. The Infiniti EX30d's engine is naturally smooth as well as impressively quiet at idle and under constant load, while what noise it does emit under hard acceleration is sporting V6.
A variable nozzle turbocharger boosts power to 175 kW (238 PS) at 3750 rpm, making it among the most powerful single-turbo diesel units available. The V6's torque output of 550 Nm, which peaks at just 1750rpm, beats that of rival models.
Petrol-powered EX
The V9X diesel V6 comes in a tradition of innovative Infiniti engines that put driving pleasure first. The potent 3.7-litre petrol V6 of the EX37 is well known around the world not only for its high-rev smoothness and evocative exhaust snarl, but also for VVEL - the Variable Valve Event and Lift technology that continuously adjusts the valves, unleashing not just great power but doing so with higher torque and improved emissions over conventional variable valve engines. This exceptional engine can rev effortlessly to 7500rpm at which point any enthusiast will be delighted by its soul-stirring noise and sharp responses.
The twin-cam 24-valve engine produces 235 kW (320 PS) at 7000 rpm with 360 Nm of torque at 5200rpm, endowing the EX37 with performance to shame a sports car: 0-100 km/h takes just 6.4 seconds while the top speed is 240 km/h.
Like the Infiniti EX30d, the EX37 is equipped as standard with Infiniti's 7-speed automatic transmission. Pushing the lever to the left selects the "DS", or drive sport, mode which locks out the two top gears and offers precise manual gear-changing when driving quickly over mountain passes, for example.
Exterior design
The EX's profile owes nothing to traditional 4x4 boxiness and everything to a sleek and sporting coupé. With its long bonnet and sharply tapering roofline, the look is one of refined athleticism, something that accurately reflects the EX's driving character.
Infiniti's signature double-arch grille blends perfectly with the soft edges and flowing contours. The complex-shape Xenon lights are an Infiniti signature, too, and in the EX they are pulled back over the tops of the wheelarches, visually thrusting the nose forward and imbuing the design with dynamism.
Chrome trim edging the glasshouse reinforces the coupé look and provides a strong character line at the rear where the window kicks up to form a triangular C-pillar. Rear privacy glass and elegant 18-inch alloy wheels add to the sophistication, while LED lights and integrated spoiler distinguish the rear. Integrated roof rails are optional.
The EX is a coupé crossover and benefits from aerodynamics far closer to those of a low and sleek coupé than a boxy SUV. Its much lower roofline than rivals doesn't just accentuate its low centre of gravity, boosting visual dynamism, but also contributes to a coefficient of drag of just 0.33.
The body will look good for years to come thanks to Infiniti's Scratch Shield paint. This unique Infiniti technology ensures the body's gloss finish remains unblemished thanks to an elastic resin within the top coat that "fills in" light scratches when exposed to heat. An Infiniti with Scratch-shield exhibits up to five times fewer scratches than a conventional clearcoat when exposed to the same conditions.
The Infiniti EX30d can be identified by a reprofiled front bumper with extra air intakes to meet the different cooling requirements of the new engine. It is the only external change for a design hailed as the pioneer coupé crossover, as well as one of the best looking.
Mechanical layout
The design of the EX hints towards sports coupé and it has been engineered to drive like one, too. In its response, agility and noise, as well as its outright performance, it provides a high level of driver satisfaction while simultaneously delivering levels of comfort and refinement in keeping with its luxury status.
One of the keys to this is the EX's extensive use of lightweight materials that help make it one of the lightest cars in its class. Aluminium features extensively in the suspension and is also used for the EX37 and EX30d bonnet, while the tailgate is made of resin.
The EX uses the second-generation version of Infiniti's FM platform in which the compact V6 is located in a "front midship" position: in the front of the car, but as low and as far back as possible, with most of the engine behind the front axle line. This layout lowers the centre of gravity and helps to deliver optimum front-to-rear weight distribution.
The fully independent suspension uses a double wishbone set-up at the front and, behind, a multilink arrangement mounted on a subframe. With an extremely rigid bodyshell, the EX in either petrol or diesel form feels agile and surefooted with a refined ride. Ride quality is also helped by the use of advanced Dual Flow Path (DFP) dampers which reduce low-speed vibration that leads to a choppy ride.
The considerable all-weather/all-roads traction benefits of an intelligent all-wheel drive layout go hand in hand in the EX with a pronounced sporting slant to the handling. This is thanks to a rear-wheel bias to the advanced four-wheel drive system, Infiniti's ATTESA E-TS (Advanced Total Traction Engineering System for All Electronic Torque Split).
The system's brain works constantly to find the ideal torque distribution, working with a centre clutch to maximise grip on slippery surfaces without compromising the EX's rear-drive feel on dry roads. The system even allows for an element of oversteer for a more sporting drive.
Torque distribution varies from a 100% rear bias to a 50/50 front/rear split. Further ensuring that only the wheels with most grip get most power is a sophisticated Electronic Stability Program (ESP). The result is a dynamic on-road drive and capable all-wheel drive ability on snow, sand or mud.
Braking is provided by four-wheel vented disc brakes while the power steering system is a vehicle-speed-sensing type which provides optimum steering effort at both high and low vehicle speeds.
Lane Departure Prevention™
Top-selling Premium versions of the EX are equipped with elements of Infiniti's Safety Shield, an umbrella term for a suite of technologies aimed at both avoiding accidents and lessening their effects. With the introduction of the Infiniti EX30d, the Safety Shield takes an important step forward with the exclusive availability of Lane Departure Prevention™. Unlike rival systems which merely warn the driver when the car strays out of a designated traffic lane, LDP takes action if the warnings aren't heeded.
LDP utilizes a camera inside the rear view mirror housing at the top of the windscreen to detect road markings. Once these are "logged", LDP can detect when the vehicle moves outside its designated lane and give both an audible and visual warning - unless there is steering action or use of indicators, both of which override the system. If the warnings are ignored, a brake actuator working in conjunction with the electronic stability control system applies just enough gentle braking on one side of the car to create a yaw effect and ease the vehicle back into the correct lane. LDP only operates at speeds higher than 72 km/h. The system needs to be activated by the driver via a switch on the steering wheel. The warning part of LDP is automatically on, although its operation can be programmed to suit different drivers and driving situations.
Designed to reduce accidents caused by inattentive driving or drowsiness, LDP represents considerable extra peace of mind for Infiniti EX30d drivers. Half of all accidents in Europe in "lane departure" situations are caused by either lack of concentration or drowsiness.
It is the first time this unique Infiniti technology has been available in this class in Europe. It is standard on diesel Premium models and will be introduced later on petrol versions.
Other Safety Shield features included as standard on Premium versions of both petrol and diesel models are Intelligent Cruise Control (ICC) with full speed range, Intelligent Brake Assist (IBA), and Forward Collision Warning (FCW).
ICC ensures a safe distance to the car in front when the cruise control is switched on. A combination of IBA and FCW remains constantly on alert, not just warning the driver of insufficient distance to the vehicle in front but pre-loading the powerful all-disc braking system in readiness for an emergency stop, should that become necessary.
Interior design
The EX interior will find favour with driver and passengers alike for its luxury and fine fittings and furnishings - plus a practical side. But it's the way the EX backs up its dynamic looks and performance with a distinct driver focus that will win the heart of the person behind the wheel.
The front seats are shaped for maximum comfort with support and are electrically powered in all models to provide the perfect driving position for the widest range of driver shapes and sizes. The driver's quarters have a "scooped-out" feel to emphasise the concept of a cockpit, and everything has been designed to be clear and easy to use. The controls aren't only placed correctly, they operate with the oiled precision that is central to the Infiniti way of making cars. With the standard Infiniti I-Key smart access system, the engine is fired by a press on a push button, the I-Key conveniently never having to leave the driver's pocket or purse.
The wide centre console echoes the exterior styling with its harmonious elegance and precision finish. The colour screen is high up for easy visibility and the clock is analogue, as it is in every Infiniti. The wheel and gear selector are leather wrapped while the standard black lacquer and aluminium trim perfectly encapsulates Infiniti's idea of modern luxury. For a more classic take, rich Maple Wood trim is optional on the GT and GT Premium.
Even with a full complement of passengers on board, the EX offers practical boot space, enhanced by a 45-litre underfloor storage compartment. When it comes to carrying larger loads, the EX has a user-friendly trick up its sleeve. Each portion of the split-folding rear backrest can be remotely lowered or raised simply by pressing a button.
Safety
High levels of passive safety were a priority at the design stage. As a result, the EX has six airbags, with dual-stage front airbags, seatbelt sensors and passenger seat occupancy sensor. The front seats incorporate hip and thorax bags, while there are front-to-rear curtain airbags for protection in a side impact.
Infiniti is constantly striving to innovate in the area of active safety, introducing systems under the Safety Shield banner which help the driver avoid an accident in the first place. With the arrival in Europe of Lane Departure Prevention™, the Infiniti EX30d sets a standard no other SUV can match.
Quality
Infiniti is synonymous with vehicle quality, and that's something that doesn't happen by accident.
On the Tochigi production line in Japan every vehicle - not just every tenth - is laser scanned to ensure that panel gaps are within prescribed limits.
During the design and development phase, new models are exhaustively tested not just at Infiniti's Hokkaido proving ground but also at the Tochigi and Motegi test and race complexes in Japan. Infiniti also has a vast 12.34 million square metre hot weather testing base in Arizona.
Testing every Infiniti in the harshest of conditions and over thousands of kilometres ensures the durability and peace of mind that buyers can expect from the products.
See also:
Three-way catalyst
The three-way catalyst is an emission control device installed in the exhaust system. Exhaust gases in the three-way catalyst are burned at high temperatures to help reduce pollutants. WARNI ...
2009 Infiniti M35 Review
A sedan isn't usually what comes to mind when you think of a family car, but the 2009 Infiniti M35x could change that. The M35x single-handedly proves that sedans can be great family cars. In fact ...
FM-AM-SAT radio with Compact Disc (CD) player
Type A 1. ON·OFF/VOLUME control knob2. Radio SCAN (tuning) button3. RDM (random) RPT (repeat) play button4. Radio CAT (category)/REW (rewind) button for SEEK/TRACK5. Radio CAT (category)/FF (fast f ...