Windshield-washer fluid reservoir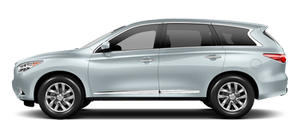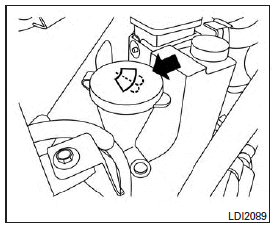 Fill the windshield-washer fluid reservoir periodically.
Add windshield-washer fluid when the low windshield-washer fluid warning light comes on.
To fill the windshield-washer fluid reservoir, lift the cap off the reservoir and pour the windshieldwasher fluid into the reservoir opening.
Add a washer solvent to the washer for better cleaning. In the winter season, add a windshield washer antifreeze. Follow the manufacturer's instructions for the mixture ratio.
Refill the reservoir more frequently when driving conditions require an increased amount of windshield-washer fluid.
Recommended fluid is Genuine NISSAN Windshield Washer Concentrate Cleaner & Antifreeze or equivalent.
CAUTION
● Do not substitute engine anti-freeze coolant for windshield-washer fluid.
This may result in damage to the paint.
● Do not fill the windshield-washer fluid reservoir with washer fluid concentrates at full strength. Some methyl alcohol based washer fluid concentrates may permanently stain the grille if spilled while filling the windshieldwasher fluid reservoir.
● Pre-mix washer fluid concentrates with water to the manufacturer's recommended levels before pouring the fluid into the windshield-washer fluid reservoir.
Do not use the windshield-washer fluid reservoir to mix the washer fluid concentrate and water.
See also:
Luggage hooks
When securing items using luggage hooks located on the back of the seat or side finisher do not apply a load over more than 6.5 lbs (29 N) to a single hook. The luggage hooks that are located on ...
Exterior styling
A long bonnet, short overhangs and dramatically raked roof line give the Infiniti G37 Coupé a silhouette that sets it apart from rival products based more heavily on their saloon counterpar ...
Language / Units
Use the INFINITI controller to select the "Language/Units" key. Select which setting you want to change using the INFINITI controller. Select Language: Select the "English" key, the "Fran&cced ...