Air cleaner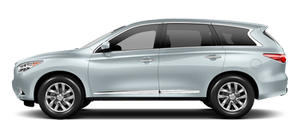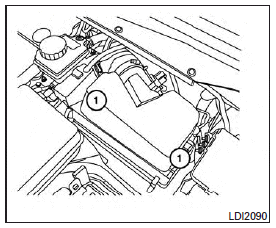 NOTE:
The air cleaner filter should not be cleaned and reused.
Replace the air cleaner filter according to the maintenance log shown in the "Warranty Information and Maintenance Booklet." To remove the air cleaner filter:
1 Unlatch the clips and move the air cleaner cover upward.
Remove the air cleaner filter and wipe the inside of the air cleaner filter housing and the cover with a damp cloth.
NOTE:
After installing a new air cleaner, make sure the air cleaner cover is seated in the housing and latch the clips.
WARNING
● Operating the engine with the air cleaner removed can cause you or others to be burned. The air cleaner not only cleans the air, it stops the flame if the engine backfires. If it isn't there, and the engine backfires, you could be burned. Do not drive with the air cleaner removed, and be careful when working on the engine with the air cleaner removed.
● Never pour fuel into the throttle body or attempt to start the engine with the air cleaner removed. Doing so could result in serious injury.
See also:
Brake pad wear warning
The disc brake pads have audible wear warnings. When a brake pad requires replacement, it will make a high pitched scraping sound when the vehicle is in motion. This scraping sound will first occur on ...
Draining of coolant water
If the vehicle is to be left outside without antifreeze, drain the cooling system, including the engine block. Refill before operating the vehicle. For details, see "Engine cooling system" in ...
2010 Infiniti G37 Review
If you're shopping $40,000 sport sedans, the Infiniti G37 is required driving: It is smartly appointed, well-equipped, reliable and as much of a hoot to drive as the BMW 3 Series. The BMW pedestal ...