Cleaning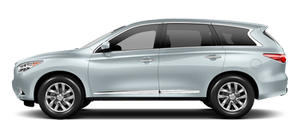 If your windshield is not clear after using the windshield washer or if a wiper blade chatters when running, wax or other material may be on the blade or windshield.
Clean the outside of the windshield with a washer solution or a mild detergent. Your windshield is clean if beads do not form when rinsing with clear water.
Clean each blade by wiping it with a cloth soaked in a washer solution or a mild detergent. Then rinse the blades with clear water. If your windshield is still not clear after cleaning the blades and using the wiper, replace the blades.
CAUTION
Worn windshield wiper blades can damage the windshield and impair driver vision.
See also:
Anti-lock Braking System (ABS)
WARNING ● The Anti-lock Braking System (ABS) is a sophisticated device, but it cannot prevent accidents resulting from careless or dangerous driving techniques. It can help maintain vehicle c ...
Overtaking other vehicles
The Blind spot warning indicator light illuminates if you overtake a vehicle and that vehicle stays in the detection zone for approximately 3 seconds. The radar sensors may not detect slower movi ...
How to stop an activated alarm
The alarm stops only by unlocking the driver's door or the liftgate with the key, pressing the button on the Intelligent Key, or pressing the request switch on the driver's or passenger's door with ...