Cleaning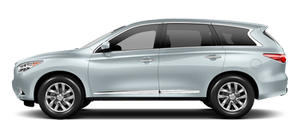 If your windshield is not clear after using the windshield washer or if a wiper blade chatters when running, wax or other material may be on the blade or windshield.
Clean the outside of the windshield with a washer solution or a mild detergent. Your windshield is clean if beads do not form when rinsing with clear water.
Clean each blade by wiping it with a cloth soaked in a washer solution or a mild detergent. Then rinse the blades with clear water. If your windshield is still not clear after cleaning the blades and using the wiper, replace the blades.
CAUTION
Worn windshield wiper blades can damage the windshield and impair driver vision.
See also:
Inside mirror
Inside mirror Adjust the height and the angle of the inside mirror to the desired position. ...
Fuses
Engine compartment ...
Freeing a frozen door lock
To prevent a door lock from freezing, apply deicer through the key hole. If the lock becomes frozen, heat the key before inserting it into the key hole or use the Intelligent Key system. ...