Air conditioner system refrigerant and oil recommendations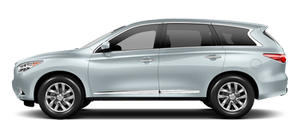 The air conditioner system in your INFINITI vehicle must be charged with the refrigerant HFC-134a (R-134a) and the oil, NISSAN A/C system oil DH-PS or the exact equivalents.
CAUTION
The use of any other refrigerant or oil will cause severe damage to the air conditioning system and will require the replacement of all air conditioner system components.
The refrigerant HFC-134a (R-134a) in your INFINITI vehicle does not harm the earth's ozone layer. Although this refrigerant does not affect the earth's atmosphere, certain government regulations require the recovery and recycling of any refrigerant during automotive air conditioner system service. An INFINITI retailer has the trained technicians and equipment needed to recover and recycle your air conditioner system refrigerant.
Contact an INFINITI retailer when servicing your air conditioner system.
See also:
Warning and indicator lights
...
Brake assist
When the force applied to the brake pedal exceeds a certain level, the Brake Assist is activated generating greater braking force than a conventional brake booster even with light pedal force. ...
Types of tires
WARNING ► When changing or replacing tires, be sure all four tires are of the same type (Example: Summer, All Season or Snow) and construction. An INFINITI retailer may be able to hel ...