Injured persons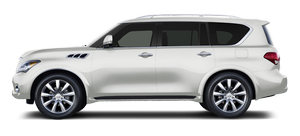 INFINITI recommends that injured persons use seat belts, depending on the injury. Check with your doctor for specific recommendations.
See also:
Pulling a stuck vehicle
If your vehicle is stuck in sand, snow, mud, etc., use a tow strap or other device designed specifically for vehicle recovery. Always follow the manufacturer's instructions for the recovery device. ...
When traveling or registering your vehicle inanother country
If you plan to travel in another country, you should first find out if the fuel available is suitable for your vehicle's engine. Using fuel with too low an octane rating may cause engine dam ...
Opening and closing windows with the mechanical key
The driver's door key operation also allows you to open and close the window that is equipped with the automatic open/close function. (See "Power windows"). To open the window, turn the driver's door ...