Maintenance indicators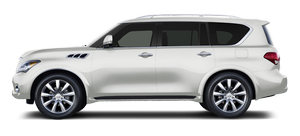 1. Engine oil replacement indicator
This indicator appears when the customer set time comes for changing the engine oil. You can set or reset the distance for changing the engine oil. (See "Trip computer" later in this section.)
2. Oil filter replacement indicator
This indicator appears when the customer set time comes for replacing the oil filter. You can set or reset the distance for replacing the oil filter. (See "Trip computer" later in this section.)
3. Tire replacement indicator
This indicator appears when the customer set distance comes for replacing tires. You can set or reset the distance for replacing tires. (See "Trip computer" later in this section.)

WARNING
The tire replacement indicator is not a substitute for regular tire checks, including tire pressure checks. See "Changing wheels and tires" in the "8. Maintenance and do-ityourself" section. Many factors including tire inflation, alignment, driving habits and road conditions affect tire wear and when tires should be replaced. Setting the tire replacement indicator for a certain driving distance does not mean your tires will last that long. Use the tire replacement indicator as a guide only and always perform regular tire checks. Failure to perform regular tire checks, including tire pressure checks could result in tire failure. Serious vehicle damage could occur and may lead to a collision, which could result in serious personal injury or death.
4. "OTHER" indicator
This indicator appears when the customer set time comes for replacing items other than the engine oil, oil filter and tires. You can set or reset the distance for replacing the items. (See "Trip computer" later in this section.). More maintenance reminders are also available on the center display. (See "How to use INFO button" in the "4. Monitor, climate, audio, phone and voice recognition systems" section.)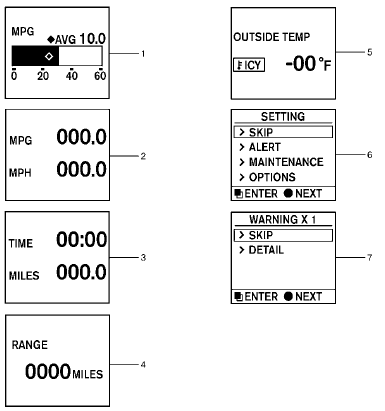 See also:
Push-button ignition switch positions
LOCK (Normal parking position) The ignition switch can only be locked in this position. The ignition switch will be unlocked when it is pushed to the ACC position while carrying the Intellige ...
Headrest
WARNING The adjustable headrests supplement the other vehicle safety systems. They may provide additional protection against injury in certain rear end collisions. Adjust the headrests prop ...
Bluetooth® Audio player (models with navigation system)
• Some Bluetooth® audio devices may not be recognized by the in-vehicle audio system. • It is necessary to set up the wireless connection between a compatible Bluetooth ® audio device and the in-vehi ...