Maintenance indicators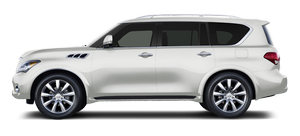 1. Engine oil replacement indicator
This indicator appears when the customer set time comes for changing the engine oil. You can set or reset the distance for changing the engine oil. (See "Trip computer" later in this section.)
2. Oil filter replacement indicator
This indicator appears when the customer set time comes for replacing the oil filter. You can set or reset the distance for replacing the oil filter. (See "Trip computer" later in this section.)
3. Tire replacement indicator
This indicator appears when the customer set distance comes for replacing tires. You can set or reset the distance for replacing tires. (See "Trip computer" later in this section.)

WARNING
The tire replacement indicator is not a substitute for regular tire checks, including tire pressure checks. See "Changing wheels and tires" in the "8. Maintenance and do-ityourself" section. Many factors including tire inflation, alignment, driving habits and road conditions affect tire wear and when tires should be replaced. Setting the tire replacement indicator for a certain driving distance does not mean your tires will last that long. Use the tire replacement indicator as a guide only and always perform regular tire checks. Failure to perform regular tire checks, including tire pressure checks could result in tire failure. Serious vehicle damage could occur and may lead to a collision, which could result in serious personal injury or death.
4. "OTHER" indicator
This indicator appears when the customer set time comes for replacing items other than the engine oil, oil filter and tires. You can set or reset the distance for replacing the items. (See "Trip computer" later in this section.). More maintenance reminders are also available on the center display. (See "How to use INFO button" in the "4. Monitor, climate, audio, phone and voice recognition systems" section.)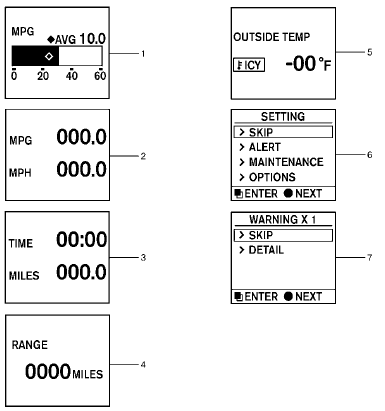 See also:
Headlights
Replacing the xenon headlight bulb If replacement is required, see your INFINITI retailer. WARNING HIGH VOLTAGE When xenon headlights are on, they produce a high voltage. To prevent an electri ...
Passenger compartment
CAUTION Never use a fuse of a higher or lower amperage rating than that specified on the fuse box cover. This could damage the electrical system or cause a fire. If any electrical equipme ...
Automatic climate control (Type B)
1. "AUTO" automatic climate control ON button/Temperature control dial2. Air flow control button3. "" Fan speed control dial4. "OFF" button5. "" front defroster button6. "" rear window defroster but ...