Windshield wiper and washer switch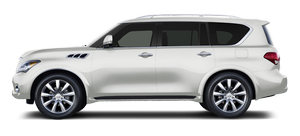 WARNING
In freezing temperatures the washer solution may freeze on the window and obscure your vision which may lead to an accident. Warm the window with the defroster before you wash the window.

CAUTION
► Do not operate the washer continuously for more than 30 seconds.
► Do not operate the washer if the reservoir tank is empty.
► Do not fill the window washer reservoir tank with washer fluid concentrates at full strength. Some methyl alcohol based washer fluid concentrates may permanently stain the grille if spilled while filling the window washer reservoir tank.
► Pre-mix washer fluid concentrates with water to the manufacturer's recommended levels before pouring the fluid into the window washer reservoir tank. Do not use the window washer reservoir tank to mix the washer fluid concentrate and water.
If the windshield wiper operation is interrupted by snow or ice, the wiper may stop moving to protect its motor. If this occurs, turn the wiper switch to the OFF position and remove the snow or ice that is on and around the wiper arms. In approximately 1 minute, turn the switch on again to operate the wiper.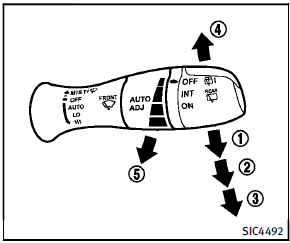 The windshield wiper and washer operates when the ignition switch is in the ON position. Push the lever down to operate the wiper at the following speed: 1 AUTO — operates the rain-sensing auto wiper system. (See "Rain-sensing auto wiper system" later in this section.)
2 LO — continuous low speed operation
3 HI — continuous high speed operation
4 MIST — one sweep operation of the wiper
See also:
Blind Sport Intervention (BSI)
The latest in a list of world-first safety features from Infiniti, BSI takes blind-spot technology to another level by introducing an element of side collision protection. As well as giving the dr ...
Vehicle recovery (Freeing a stuck vehicle)
WARNING • Stand clear of a stuck vehicle.• Do not spin your tires at high speed. This could cause them to explode and result in serious injury. Parts of your vehicle could also overheat and be damage ...
Push-button ignition switch
WARNING Do not operate the push-button ignition switch while driving the vehicle except in an emergency. (The engine will stop when the ignition switch is pushed 3 consecutive times or the ignition s ...