Valet hand-off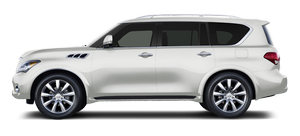 When you have to leave a key with a valet, give them the Intelligent Key itself and keep the mechanical key with you to protect your belongings. To prevent the glove box from being opened during valet hand-off, follow the procedures below. 1. Remove the mechanical key from the Intelligent Key. 2. Lock the glove box with the mechanical key. 3. Hand the Intelligent Key to the valet, keeping the mechanical key in your pocket or bag for insertion into the Intelligent Key when you retrieve your vehicle. See "Storage" in the "2. Instruments and controls" section.
See also:
Shifting
Shifting To change gears, or when upshifting or downshifting, fully depress the clutch pedal, shift into the appropriate gear, then slowly and smoothly release the clutch pedal. This vehicle is eq ...
Others settings (models with navigation system)
Others settings (models with navigation system) The Others settings display will appear when pushing the SETTING button and selecting the "Others" key. The following items are available:• Comfort• ...
Aftermarket fuel additives
INFINITI does not recommend the use of any aftermarket fuel additives (Example: fuel injector cleaner, octane booster, intake valve deposit removers, etc.) which are sold commercially. Many of these a ...