Auto closure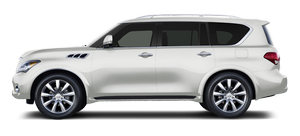 If the lift gate is pulled down to a partly open position, the lift gate will pull itself to the closed position. Do not apply excessive force when the auto closure is operating. Excessive force applied may cause the mechanism to malfunction.

CAUTION
► The lift gate will automatically close from a partly open position. To avoid pinching, keep hands and fingers away from lift gate opening.
► Do not let children operate the lift gate.
See also:
Brake pad wear warning
The disc brake pads have audible wear warnings. When a brake pad requires replacement, it will make a high pitched scraping sound when the vehicle is in motion. This scraping sound will first ...
Seats
WARNING ► Do not ride in a moving vehicle when the seatback is reclined. This can be dangerous. The shoulder belt will not be against your body. In an accident, you could be thrown ...
Zone variation change procedure
The difference between magnetic north and geographical north is known as variance. In some areas, this difference can sometimes be great enough to cause false compass readings. Follow these instructi ...