Setting memory function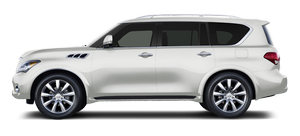 The status of the following settings can be linked to the Intelligent Key and the memorized settings can be available for each Intelligent Key.
► Air conditioner system
► Navigation system
► Audio system
To use the memory function, lock the doors with the Intelligent Key that is linked to the settings. To enable the memorized settings: 1. Carry the Intelligent Key that is linked to the settings, and unlock the doors by pushing the driver's door handle request switch or "UNLOCK" button on the Intelligent Key. 2. Push the ignition switch to the "ON" position. "Connection with the key has been done" will be displayed on the screen and the memorized settings are available (only when a new Intelligent Key is used).
See also:
Gasoline containing oxygenates
Some fuel suppliers sell gasoline containing oxygenates such as ethanol, MTBE and methanol with or without advertising their presence. INFINITI does not recommend the use of fuels of which the oxygena ...
Emergency engine shut off
To shut off the engine in an emergency situation while driving, perform the following procedure: – Rapidly push the push-button ignition switch 3 consecutive times in less than 1.5 seconds, or – ...
Opening windows
The UNLOCK button operation also allows you to open the window that is equipped with the automatic open/close function. (See "Power windows"). To open the window, push the door UNLOCK button 2 on ...