How to use INFINITI controller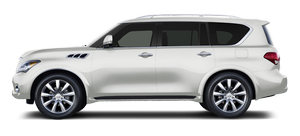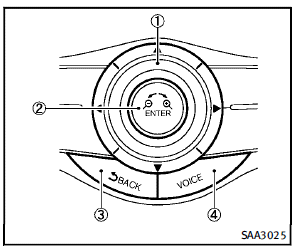 Choose an item on the display by rotating or pushing the center dial 1 upward/ downward, and push the ENTER button 2 for operation. If you push the BACK button3 before the setup is completed, the setup will be canceled and/or the display will return to the previous screen. This button can also be used to delete characters that have been input. After the setup is completed, push the BACK button3 and return to the previous screen.
For the VOICE button4 functions, refer to the separate Navigation System Owner's Manual.
See also:
Moisture
Accumulation of sand, dirt and water on the vehicle body underside can accelerate corrosion. Wet floor coverings will not dry completely inside the vehicle, and should be removed for drying to avoid f ...
Safety
When I first picked up the test car, it beeped at me several times while I was driving on the highway. It took me a minute to figure out that it was beeping every time I drifted into another lane. ...
Locking with power door lock switch
Operating the power door lock switch will lock or unlock all the doors. The switches are located on the driver's and front passenger's door armrests. To lock the doors, push the power door ...